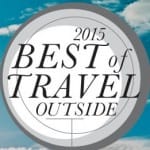 Pure Adventures offers exceptional local expertise, insight and connections to design both ready-made and custom self-guided, independent, or supported adventures in a variety of European and North American destinations. Our focus is a premium model to that of most European offers or most other 'self guided' offers. Our commitment is to value with high quality, while encouraging personal engagement with people, community and culture.
[PDF: About Pure Adventures]
Top Reasons why our customers choose us:
– Service – we are available by phone, email, skype, social media and respond immediately; almost always within 24 hours even when messages are received during 'closed' times at night and weekends.
– Quality – through 22 years experience we put more into the tours to make them better, not cheap.
-Local Expertise – we work with local experts in every place we offer a tour. We select local outfitters who help us build a Pure Adventures style tour with more services and the kind of experiences we want. Local experts help us offer the best routes, the best sites, visits, and optional experiences that are truly local. All of the Pure local experts are 100% legit, insured, licensed, pay taxes, etc. You are fully covered by strength of operation from start to finish.
– Confidence – pay us in $US, $CAD, or Euros, and know your money is safe. We are insured and licensed in the USA, offer the highest quality travel insurance, and are there for you before, during, after the tour.
-Consistency – our customers count on us from trip to trip, country to country. They know us and we know them. We take our attention to each customer's needs on every trip and every destination they seek. Repeat traveler rewards and consistent experiences specific to each destination.
Read how we do this:
When we develop tours and look for our local support service providers it is always with an eye to meet our promise to our clients, which is to ensure that every vacation you take with us is a great value, full of fun and discovery and uniquely yours. Our formula requires more than the usual support because we have found it to be appreciated by travelers, safer, and possible without high cost. Our self guided and independent but supported programs are superior in support, services, and value. Yes, slightly higher in price, but your vacation is worth it! This we know from 20+ years experience.
Selective: We are selective about our local partners, guides, hotels, equipment, and routes among other key components. You don't need to worry about these things; we have done this long enough that we know what we seek and offer will be a great experience. That gives you confidence, peace of mind, and leaves you comfortable knowing you are going to be taken care of.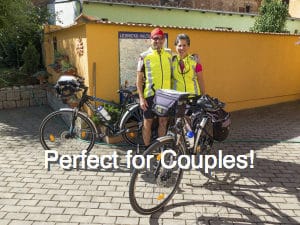 Of late, self guided touring has taken off and the number of tour companies offering a self guided trip are multiplying! Why – because lower priced offers were catching interest from travelers. We are happy to say that we were among the earlier pioneers offering self guided trips to Europe in the 1990s. But, low price does not equal good trip! We wrote the Guide to Self Guided Cycling that was published on About.com for many years which showed exactly what self guided travel was and was not. In 2013, we brought our version of Self Guided Adventures to the USA and introduced a new hybrid self-guided/guided tour for remote destinations and custom groups! In 2016 we introduce Asia! See our new Supported Self Directed tour model!
Of course with the influx of self guided offers comes the inevitable glut of info and a mix of definitions. Be sure to compare what you are paying for and getting in a quoted price. At Pure Adventures, we include lots of extras that we know to be important. And who likes the airline method of giving a base price only to be nickled and dimed with needed add-ons?!
Pure Adventures offers a lot of tours in popular and emerging destinations. We don't offer everything, we only offer what we know works well and has been adapted to our formula for support, service, and quality. After 20 years, we think you can trust that we know a good self guided program; and a quality guided program. And, they don't have to cost an arm and a leg, nor do they have to be a "DIY" vacation. There is a middle ground, around value, and its right here!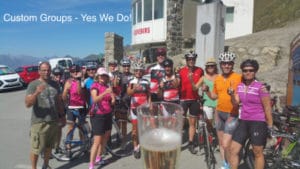 Pure Adventures is the only active travel adventure company that possesses unmatched local expertise, insight and connections to design both ready-made and custom self-guided, independent, or supported adventures Europe, Asia, and North America.
All programs are specifically made for active, curious and confident travelers who seek out vacations that offer both uncompromising value and inspire personal engagement with people, culture and community located in markets with active international travelers, who crave freedom, flexibility and empowerment to author their own unique vacation 'story' in an era of increasingly homogenous and predictable 'me-too' packaged vacation travel offers. Pure Adventures is founded and operated by the same team that created and grew Discover France Adventures, Cycling Classics, and which also built a Tour de France brand for tours at the Tour.
Did you know? If you have been on a trip and you refer a friend you can get a discount?
Refer us to friends, and when your friends book a tour, you earn a credit of $50 per person booked for use on future trips. (Ask us for the 'Referral Program' flyer for details.)
Exceptions:
Additional incentives for repeat travelers exist as well: Contact us for info
Pure Adventures Attributes
=> Established: we have been in business since 1994, starting first a France based adventure company, and then founding Pure Adventures in 2004 with pioneering self-guided bicycling & hiking vacations in Europe. We have an office in Spain and the USA and are strengthening our partnerships all the time! We continue to be an award-winning leader in the field and we are financially sound and operationally strong.
=> Professional: We are committed to giving our clients' the best service and experience possible, and have the staff, systems, and know-how to do so. We are organized, operationally efficient, and adhere to the highest work ethic.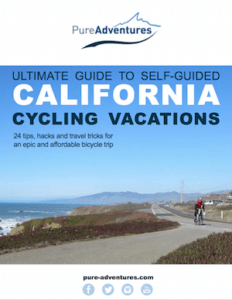 => Knowledgeable: we have unparalleled knowledge and unique insight on cycling and active travel itineraries in Europe, and all the little details that make a 'good' vacation a 'great' one. We also have a depth of experience in knowing what our clients want from their experience, and we carefully tailor our trips and the support services we provide to these personal needs.
=> Curious: We love to explore and uncover all the little out-of-the-way secrets and treasures (whether cultural, gastronomic, or otherwise) in the regions we operate in. Our curiosity is woven into extraordinary itineraries that allow our clients to experience the magic of discovery and their own curiosity.
=> Accessible: we pride ourselves on a quick response time, all the time. Our staff are warm, personable and friendly (not a call center), unassuming yet comfortably confident and proud of the exceptional value that we provide. We welcome and encourage client inquiries and will go out of our way to assist them.
=> Supportive: We understand that planning a vacation, and getting all the details right, can be daunting for our clients, especially for self-guided vacations. We have the full network of resources and support systems in place to ensure the seamless delivery of excellence from the moment clients contact us to the end of their vacation.
=> Progressive: From our technologically advanced systems and dynamic services we provide our clients, to our environmentally proactive policies and local community support, we are a forward-thinking organization that embraces positive change at a local, regional, and international level.

=> Expertise & Knowledge: we know the bicycle tour business and in particular self-guided cycling because it's also the way we like to travel. We practice what we sell. We have honed our knowledge and skills over 20 years, and we know what makes a guided or self-guided vacation great (and more importantly, what doesn't). Our staff either lives in or has in-depth experience in the regions we sell.
=> Credibility: we pioneered self-guided cycling vacations in France starting 20 years ago, and continue to set the standards for active adventures in Europe and now North America. From our professional staff who have lived in or live now in Europe or whatever locale we operate, to onsite orientation staff, to award-winning recognition from leading travel magazines and national tourism associations, we are your trusted advisor is self-guided vacations. We consistently receive high client satisfaction ratings.
=> Responsiveness: we pride itself on professionalism and a high level of service. This begins with being accessible and responsive, getting back to client inquiries in the fastest, most efficient, and friendliest way possible. When you email or call or message us through social media (and we encourage you to), you get human contact and live interaction, not an automated script. And this extends to your trip where we provide 24/7 support.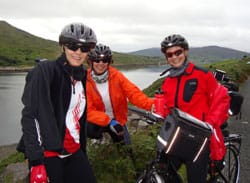 => Network: Having a smooth, fun-filled vacation adventure means having the network in place to deliver it. We are a truly international organization with our HQ and sales & marketing office in North America, operations in Spain, and hired agents in every destination we offer. We partner with best-in-class local outfitters in the European countries where we operate and we cover the entire western USA with our exlusive partnership with AOA.
=> Resources: Making a 'good' vacation a 'great' one is all in the details. In our case, we take care of them for you. Our routes/itineraries are carefully selected to provide you with the most authentic local experiences, from beautiful landscapes to historical sites to culinary delicacies. But we also equip you to be fully prepared for your adventure, with excellent equipment (new bikes every 2 years), comprehensive pre-trip information and tips, GPS tracks for self-guided trips, an onsite orientation, and custom road book to help you make the most of your trip.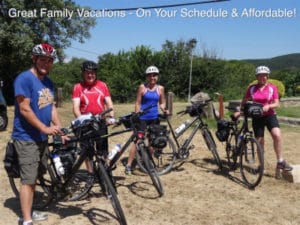 => Value: We believe that self-guided vacations are the best and most rewarding way to see Europe, whether it is by bike or on foot. They also happen to be great value, whether compared to fully-guided tours or equivalent independent travel. As an operator in both the USA and Europe, we have teh ability to manage costs; and thus, our prices are very competitive and often much lower than other outfitters offering the same overall level of quality and accommodations. We are not the cheapest travel option, but we are the best value.
=> Processes: 'Self-guided' does not mean you're out on your own the moment you select a trip. LRB has a very structured and proven process designed to prepare you for your adventure in every possible way. You will receive clear and informative documentation from us on a regular basis, and be informed when action is required on your part. We take care of all the arrangements in the least intrusive way possible, so you can look forward to your trip, not the logistics.
=> Community Support: We are firmly committed to a policy of sustainable tourism as means of preserving the world we live in. We also believe in strong communities and ensuring we do our part. That's why we sponsor a local Under-23 bicycle club, promoting the benefits of teamwork, fitness, and passion.