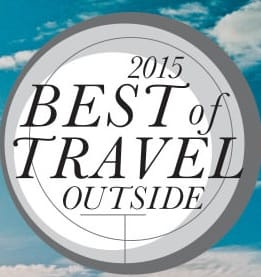 Pure Adventures is a brand name owned by LRB Flagship, Inc. In 2018, LRB enters its 24th year of operations. [ Read more of our history in the interview with Everett Potter/Oct 2013] The company has been ARC appointed, is currently IATAN certified, and is licensed in Arizona and has been registered with the BBB for 17 years carrying an A+ rating. Trade names are registered with the United States Patent Office. We carry $1M E/O policy insured by AON. The company has been selected as the small business of the year in our local community, and our ownership recognized in local business magazines. The brand has been written about in feature stories and in support of many travel related stories over the years. National Geographic Adventure, Men's Journal, Men's Fitness, Outside, SmarterTravel.com, have selected our tours for the value offered by self guided trips along with the quality and cool itineraries that make a great package at a great price. The New York Times included our tours in piece written years ago and which still drives interest! About.com posted this story recently, but also carries this article defining Self Guided Cycling from years ago.
Recent media prints: Please request reprints, links, or contact our media agency Widness & Wiggins. Other older and classic articles include: 7 Self Guided Trips Worldwide – About.com | Romar Traveler – Portugal Biking Tours | Dallas Morning News – Ireland Cycling Tours | Global Traveler – European Self Guided Cycling Tours | Romar Traveler – Biking & Cooking in Spain | Chicago Tribune
Recent Reviews from Tour Radar:
Italy – Cinque Terre Hiking Tour
Great accomodation great owners very helpful and willingly could not be better Guiding spoke briefly via phone re orientation and had his…
Rated 3 out of 5
---
We did a 10 day ride with Equinox through Montreal, Quebec and Lac St Jean at the beginning of September. There are simply not enough superl…
---
Italy – Dolomites to Lake Garda 6 Nights Cycling
Dolomites to Lake Garda Tour …. Best Vacation Ever!!! This was our first trip with Pure Adventures and the trip exceeded all of our expectations…
---
More reviews at  Adventure.travel
Write a review on our Facebook page!
We work with various offices of tourism and employ destination specialists in the regions that we promote. Our previous brands won Best Website Award, Best Social Media Presence, from the French Government Tourist Office and been a finalist many times for various awards. National Geographic Adventure selected Pure Adventures as one of the Best Adventure companies! We have been selected for BEST New Trips for 2009 and 2010 by National Geographic Adventure. Most recently our trips have appeared in Outside Online, the Boston Globe, American Airlines inflight magazine, and more. In the USA, we have established an exclusive partnership with one of the best logistical outfitters in the western USA with 20 years experience in cycling, trekking, hiking, white water tours, corporate events and team building. Combined, that is 40 years experience! Numerous tourism boards in the west refer business.
---
We are members of the Better Business Bureau (Central/Northern Arizona Chapter), with an A+ rating, and approved by BBB with their Online Reliability program. Our history is accessible by clicking the logo at the right.
---

We are one of the first members of the Adventure Travel Trade Association for more than 11 years (ATTA) and were part of the 2006 and 2009 ATTA advisory committe for the annual Adventure Travel Summit.
---
We are endorsed by IATAN as a Travel Service Intermediary meeting the strict standards of eligibility. We offer our own travel insurance to our clients through Travel Guard, Travel Safe, and other providers with applicable coverage for our clients.
---
Pure Adventures has sent a portion of tour receipts to Sustainable Travel International and is a supporter of environmental protection efforts in all areas. See our current donation recipient; the Adventure Travel Conservation Fund.  We are currently seeking to offer more meat free dining options on tours and we are taking a strict stance against factory farming around the world.
---
Pure Adventures supports local cycling and in the past years has contributed to youth and U23 racing development. LRB contributed to the Livestrong foundation, and has done so in years past through the Tour of Hope and Peleton Project. We support MS 150 riders, and we donate to the International School of Arizona, the Arizona Wilderness Coalition, the Vietnam Veterans Assn of the Valley, and Big Brothers/Big Sisters. LRB Flagship contributed a small portion of each tour sale to Save the Children, Livestrong Foundation, and Arizona Wilderness Coalition.
---
"We loved the Vineyards of Provence tour and had such a great honeymoon. I would definitely do a bike trip again. I was impressed at how well organized everything was and our hotels and meals were fantastic!"
– S. McCracken
"I can't thank you enough. You have allowed our family to experience something deep that will remain as wonderful memories, all our lives."
– Mary M.
"Thanks for the best vacation I've had in years!"
– Jeffrey P.
"Everything was very well coordinated. We hope to take another tour next year!"
– Anne A.
"it was a great experience that I've recommended to friends and would love to do again."
– Jeff C.