All the tours we offer in all the countries offer a cultural experience! They are all great in their own way. There are reasons why our typical client books the trips that make up our most popular trips. The list below just gives some hints from our point of view about some of the cultural experience you may want to consider when choosing: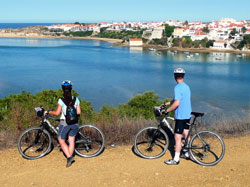 Most Popular Regions: - these regions share some common themes: sunshine, cuisine, good wines, art, 'good living' !
Tuscany Biking in Italy - more expensive of the popular cycling tour regions in terms of tour prices, tons of culture, art, history, architecture, wine and gastronomy!
Catalonia Bike Tours in Spain - best value in terms of prices and hotels and one of the best foodie destinations yet to be exploited! Of course tremendous culture and art: Dali is from the region; and history back to Roman and Greek settlements.
Our France Bicycling Tours are available in 4 key popular regions all known for culture, gastronomy, and great sites for cycling.
Best Cultural Secret - Czech Republic Greenways to Cesky Krumlov; several UNESCO World Heritage Sites included
Rural Culture - a bit old world, a bit low tech, the beach, natural park, and peaceful - Portugal Alentejo Coast
Lost Culture - Hungary Trip - friendly people along the Danube to Budapest where remnants of a once powerful empire ruled
Beer Culture - Belgium - of course, where there is a different glass for every beer! Your challenge is to try them all. Good luck.
Sound of Music Culture - Salzburg to Prague - UNESCO sites, mountain backdrop, charming villages.