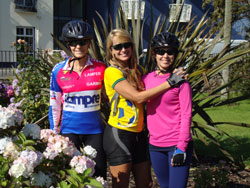 Family travels and cycling tours for families - often not a very easy program to find! Families come in different ages, abilities, and desires. So, our intent in these recommendations is to break it up for both young families and active families:
For families with older children one of our best tours is in Spain:
http://pure-adventures.com/tours/cycling-gastronomic-catalonia.php Gastronomic Tour –several different hotel options on this tour allow us to find affordable places when multiple rooms are needed, or even apartments and suites with more space in one room.
http://pure-adventures.com/tours/cycling-ireland.php - Ireland multisport tour offers lots of activities and mostly easy levels but still best for older children. Guest house accommodations keep everyone under 1 roof but in different rooms. Guest houses are small so a family can take most of the available rooms with advance booking.
Also, we can custom build family tours around Villa stays in Catalonia Spain. For families seeking to save money on lodging and food, this is a great option. Families can do their own cooking and can rent a house or villa for much less than doing 2+ rooms in a hotel. We arrange that plus all the riding. This is a custom program totally dependent on the type of villa or house. We have enormous options in Catalonia too; we can arrange cycling, snorkeling, sea kayaking, cooking classes, sailing excursions, and so forth. Contact us, or use our Quote Request form to get more details.