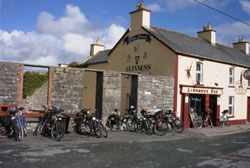 Of course your ideal first self guided trip may not be the next persons idea! Our intent here is to show some of the most popular but also the places where English is more commonly spoken - this as a suggestion for English only speakers without a lot of foreign travel experience.

Scotland - English spoken with an accent like no other! New in 2013, this is a fabulous tour from Glasgow to national parks, lakes, and distilleries!
England's Lake District - one of the more popular regions for the English to go and get away! Simply beautiful!

Ireland - obviously! They do speak English in Ireland, but out in Connemara where we offer trips, Gaelic is still prevalent, and well, that thick Irish accent can be a challenge some times as well! Any of our Ireland tours are good starters!

Belgium - who doesn't love the Belgians?! They love beer, and they speak so many languages! The countryside is pretty flat, the people are super friendly, and it really is a great discovery.
Spain and Italy are the most popular destinations of those we sell, after France. So, looking at the offers in those 2 countries, we believe these are great First Trips to those countries:
Spain Gastronomic - our most popular trip in Catalonia, lots of English speaking support and sites
Tuscany 6 Nights - our most popular trip in Italy; lots of English speaking support and sites