Honeymooners come in all flavors - we can only guess what your tastes may be so consider this only a suggestion. In fact, honeymooners could choose to do any trip we offer! We will adapt where we can with an upgraded room or suite, or special service when possible if you wish it.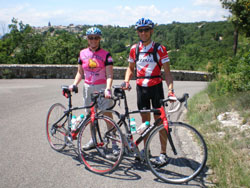 So, if we consider some classic destinations that both men and women typically love to visit; where there are sites, excellent restaurants and charming hotels where romantics can be in their own little bubble, then we offer these as some top choices:
Catalonia Spain Deluxe Cycling Tour - not a budget trip, but like no other; the perfect tour for honeymooners who like to be active. Simply the best hotels each night!
Tuscany 6 Nights - Honeymooners never go wrong in Tuscany!

Catalonia Gastronomic Tour - better on the budget, very romantic!

Puglia in Italy - beaches, sunshine, deluxe hotels

France: Provence Vineyards & Lavender