Hotels, Guest houses, B&B's, Farmhouses, apartments, villas, and other types of lodging are all possible on our tours. We almost never book chain hotels. Our mission is to find interesting and charming places to stay. We are always on the look out for 'value' in a place of lodging. That doesn't mean cheap. It means a quality place to stay with very helpful owners and staff, clean rooms and facilities, quality breakfast, bike friendly, and a room rate that corresponds to the category and services provided.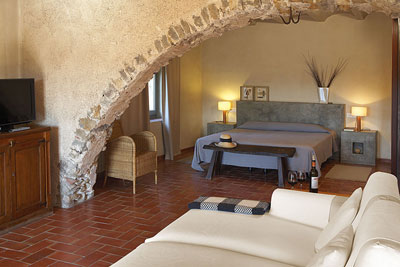 Deluxe Hotels - can be labled as 4 or 5 stars. The standard in Europe is a bit different from one country to the next. Many 4 star hotels in France are top end, nothing better! They have only begun to give out 5 star lables. These top end properties will have large rooms, the most amenities, and elegant decor. There may be spa services, golf and/or tennis, live music and bars with restaurants. They are very comfortable places to stay and apart from the cycling clients such as yourself, most of the clients will probably not be on an adventure trip!
3/4 star lodging - this is usually our target level of lodging in most of our tours. Good prices, but excellent quality: friendly owners, great ambiance, bike friendly, very comfortable and well apointed rooms with the basics like hair dryers, safes, bathroom toiletries, comfortable beds, quality linens, and quiet rooms; among other services. Many properties will have a swimming pool and restaurant, but not always. We try to find smaller properties, so they are rarely very large hotels with many floors of same size box rooms. We try to take superior rooms in most places, but when that pushes the price too high, we keep those rooms as an option for upgrade.
2 star hotel lodging - not commonly used in any of our tours. In France many decent 2 star hotels can be found, but it requires personal knowledge because the variances can be tremendous. Outside of France we rarely use this standing of hotel, but there are times. In the case we use a 2 star hotel it will absolutely have private bathrooms in the room, and will be a clean, well run establishment.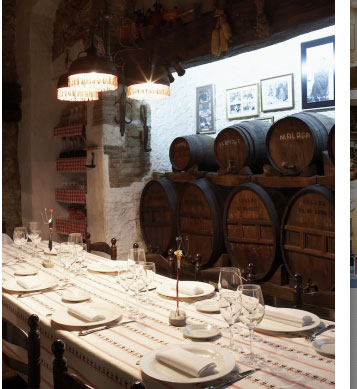 Guest houses/B&B's/Farmhouses - all the same name really for what is more or less the same thing: a privatelly owned home or property where the owner takes care of everything for the guests. They could have anywhere from 2-6 rooms for guests. These are very intimate and friendly. You should expect to share certain common areas with other guests and possibly even eat with other guests around a big table. Rooms are usually very nice, but not always as noise resistent as hotels.
Apartments/Villas - long term stay places like these can come in many different 'standings' - deluxe or rustic! The main feature of note here is that they are extended stay and will have kitchens for self catering if desired. You may not have daily maid services/house keeping included.
CUISINE
One of the key reasons to travel to Europe!! And, perhaps one of the best ways to enjoy it is after a day on the bike or in outdoor activities. Of course cuisine does vary from one country to the next and of course there are different levels of dining experience.
Some tours include most meals, some include a combination of breakfasts and dinners, and some include breakfast only. We do always include breakfast on every tour, every day at a minimum.
Breakfast is almost always a buffet stocked with enough variety and sustenance for cyclists getting set to embark on another discovery. Some of the more deluxe hotels will offer more choices including a hot and cold buffet. In every case, our travelers will find the breakfast offered a perfect way to start their cycling day.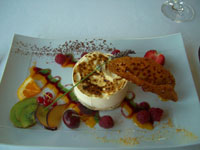 Lunches/picnics: we do include lunches and picnics on guided trips; but nearly every self guided trip leaves this mid day meal open for you to choose. We recommend places to stop and eat along your route which you will find in your road books. We always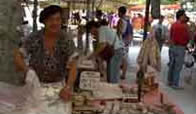 recommend having a picnic and suggest buying ingredients before leaving your start town in the morning.
Dinners: here is your best chance to experience the local flavors of your destination. When we include dinners in our tours, they will always be multicourse dinners that are part of a package or "menu". You get to choose from a couple options for entree, and main course. The more gastronomic or deluxe the restaurant, the more choices and more courses available to you. The meals are always high quality, consistent and won't leave you hungry after. Drinks/alcohol are almost never included. So, depending on your tour choice, you will need to leave some budget for dinners and drinks.
Part of the information provided to you is about food specialities for where you are traveling. If you have a sense of adventure, you will surely be delighted with your meals, no matter where you are traveling!