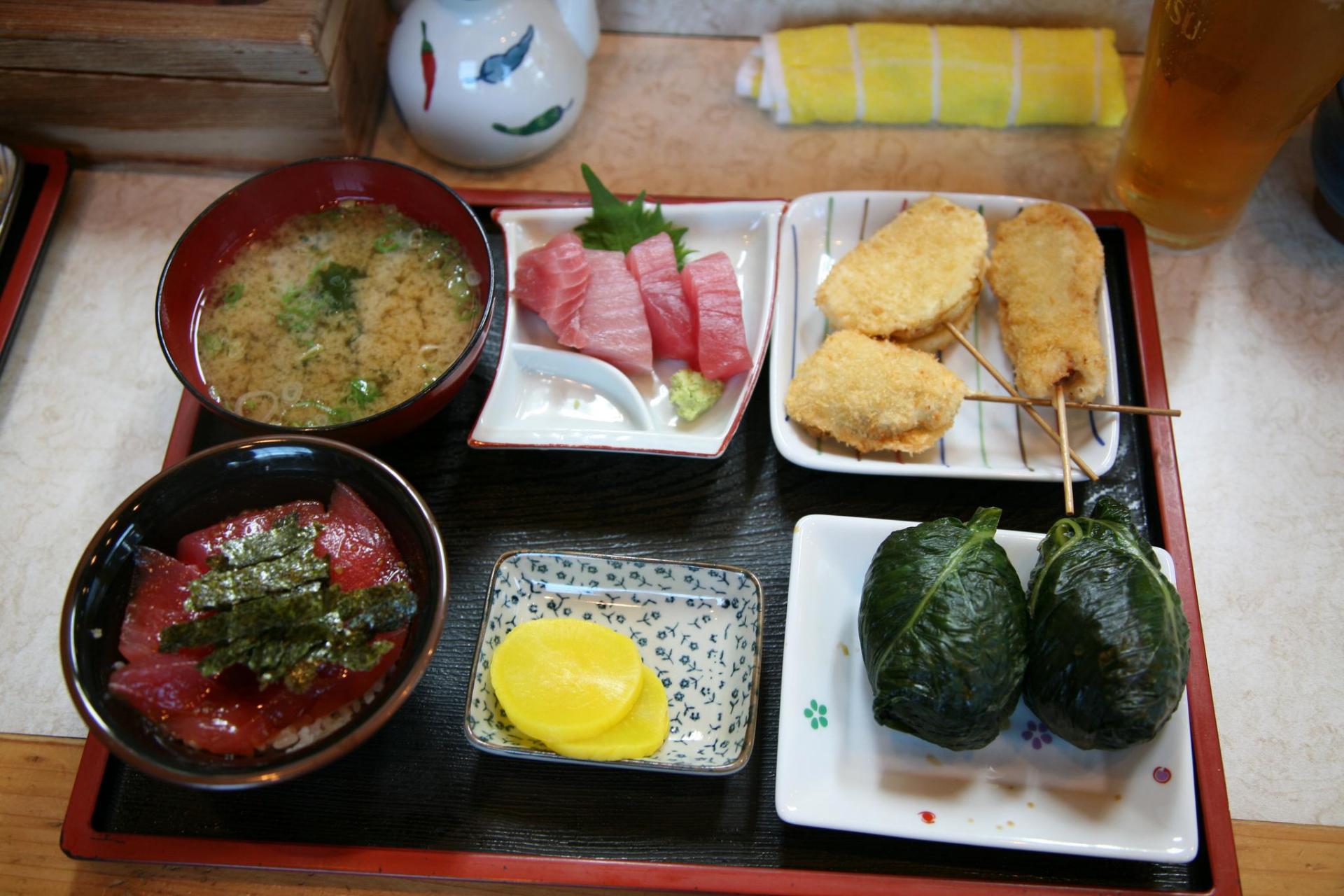 Japan - The Kumano Kodo Trail: Kyoto to Osaka
from US$1,910
The Kii Peninsula points south away from the great cities of Kyoto and Osaka, and is one of the most remote and mystical areas of Japan, despite its proximity. Long a place of pilgrimage, it is the site of the three Grand Shrines of Kumano (Kumano Sanzan). From the 11th ... Read More
Reviews

Difficulty

Tour Type

Self guided Hiking Level 4

Availability

All year (the region may occasionally experience snow from December to March)

Duration

Distance
Kyoto
Your tour begins with your arrival at your hotel or ryokan in Kyoto. On our Standard tour, accommodation options include the Hearton Hotel or the Kyoto Royal Hotel – modern, western style hotels with private en-suite facilities. You can also opt for the informal, Japanese-style Yoshimizu Ryokan where you will sleep on futons in tatami-mat rooms; as with the Japanese inns you will experience on the Kumano Kodo Trail, bathroom facilities are not attached to your room but 'along the hallway'. Our premium tour options include the luxurious Granvia and Hyatt Regency hotels. Daily breakfast is included with all options. Transfers are not included, but whether you are flying into Osaka Kansai airport or arriving by train from Tokyo, we will happily advise you on the best way to reach your accommodation. Normally we recommend flying to Kyoto and we can book a private transfer for $55 supplement. Arm yourself with your favorite guide book and begin your discovery of the city of Kyoto – Japan's cultural and historical capital.
Kyoto Royal Hotel & Spa




Japan Kumano Kodo Self Guided or Guided Hiking Tour
Sightseeing in Kyoto
A day to explore Kyoto with your own personal guide. One of our knowledgeable, friendly and professional guides will meet you at your hotel after breakfast and lead you on a full-day tour of Kyoto. You can opt to travel by bus and subway, or by taxi – you pay for travel and entry fees on the spot. We have devised five different itineraries for you to choose from; we have included some of the most famous sights and some lesser-known spots. There are even options to join a Zen Meditation session or Tea Ceremony experience. We are proud of our guides – we engage them directly and not via agencies or other third parties. Your guide will return you to your hotel around 5pm or, if you prefer, will leave you in an alternative location of your choosing.
Kyoto Royal Hotel & Spa




Japan Kumano Kodo Self Guided or Guided Hiking Tour
Kumano Kodo Trail from Takijiri to Takahara
Send your main luggage ahead from your accommodation before the Kumano Kodo Trail to the ryokan in Yunomine where you will stay half-way along the trail. You can manage with your overnight essentials in your daypack for your nights in Takahara and Chikatsuyu. Alternatively, if you are accustomed to travelling light, you may prefer to send your main luggage from your accommodation before the Kumano Kodo Trail to wherever you are staying after the trail. You would then manage with overnight essentials in your daypack for all five nights on the trail. Use one of the wonderful Japanese luggage-forwarding services which are ultra-efficient and secure. We supply train tickets for your journey from Kyoto through Osaka to the mystical Kii Peninsula via Osaka. The train hugs the coast as far as the small town of Kii-Tanabe, arriving just after midday. In Kii-Tanabe you board a local bus for the forty-minute journey to Takijiri and the start of your walk on the Nakahechi portion of the Kumano Pilgrimage route. The Nakaheji has been established as one of Japan's National Historic Roads. From Takijiri Oji, the path climbs steadily up to the ridge-top village of Takahara. The walk is 4.5km / 2.8 miles with 370m / 1,200 feet of ascent and takes around two hours. Stay at a lovely ryokan with both Japanese and western style rooms, all with spectacular views over the valley and mountains beyond. Enjoy a wonderful home-cooked dinner with local ingredients and soak in the bath filled with thermal water from nearby Wataraze Onsen. Walking distance: 4.5km / 2.8 miles Elevation gain: 370m / 1,200 feet of ascent Time required: About 2 hours
Ryokan Takahara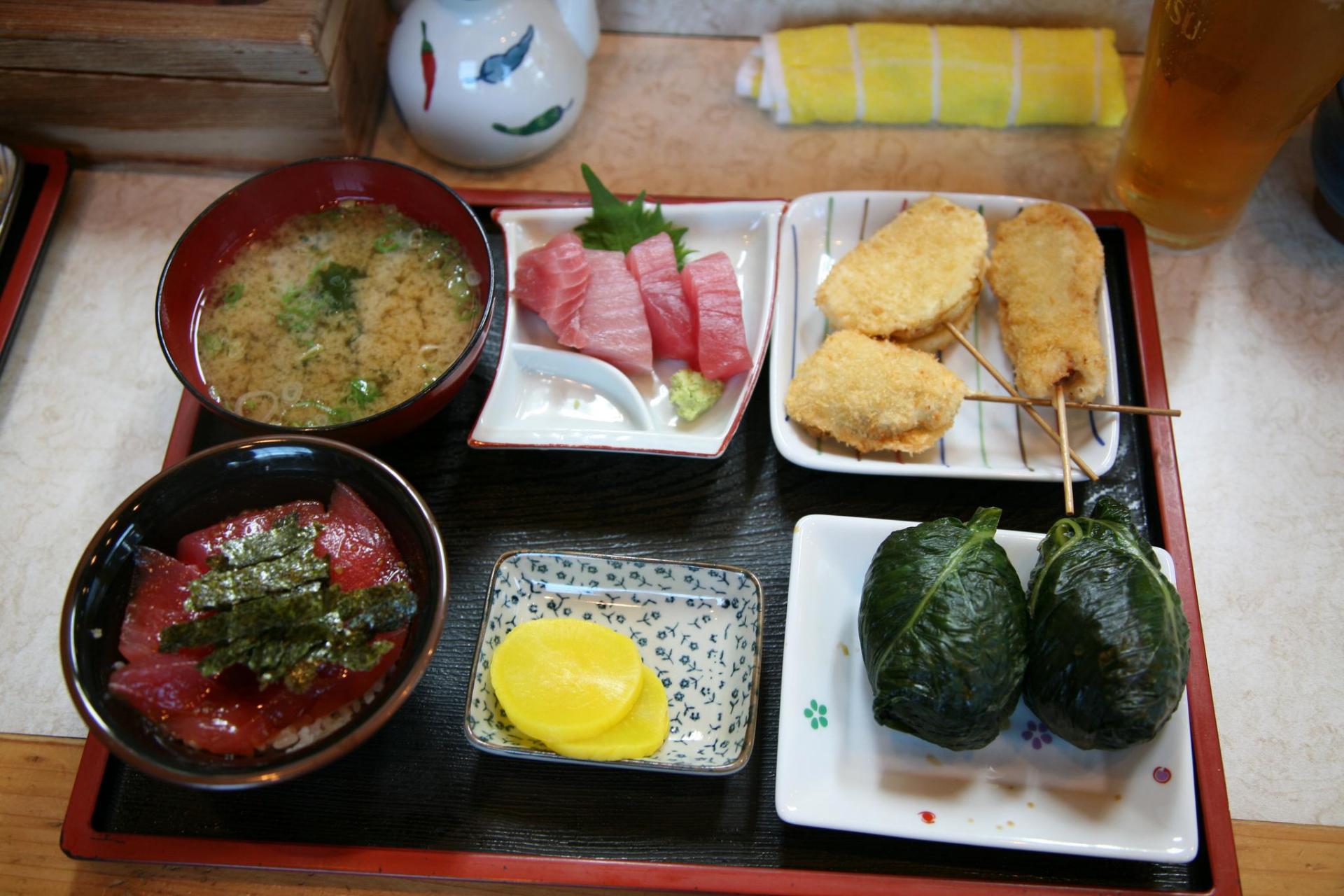 Japan Kumano Kodo Self Guided or Guided Hiking Tour
Kumano Kodo Trail from Takahara to Chikatsuyu
After your Japanese breakfast you leave Takahara, climb through the village and continue on an undulating trail past several oji shrines before descending to the village of Chikatsuyu. The paths are clearly defined, and flagstones have been laid in some places to make the climbs easier. You arrive in the small village of Chikatsuyu in time to relax before dinner at a family-run minshuku (guesthouse). Walking distance: 10km / 6.5 miles Elevation gain: 480m / 1,575 feet of ascent and 520m / 1,700 feet of descent Time required: About 4 - 5 hours
Minshuku Chikatsuyu
Japan Kumano Kodo Self Guided or Guided Hiking Tour
Kumano Kodo Trail from Chikatsuyu to Hongu
From Chikatsuyu, the trail continues through the mountains to Hongu. The trail passes through small villages and forest trails over the Kii Mountains to the Kumano shrine at Hongu, one of the three 'Grand Shrines of Kumano'. At the heart of these sacred mountains, Kumano was said to be the entrance to the land of Yomi , the 'other world' which spirits travelled to in Japanese mythology. From the Kumano shrine at Hongu, a short bus ride brings you to Yunomine Onsen, one of the oldest natural hot spring onsen villages in Japan, and your ryokan with its wonderful outdoor bath. Enjoy a relaxing soak before or after your delicious, multi-course dinner. If you sent luggage ahead to Yunomine Onsen, it will be waiting for you at your inn when you arrive. Your hosts will assist you to send it onwards tomorrow morning to wherever you are staying after the Kumano Kodo. Longest option Walking distance: 24km / 14.9 miles Elevation gain: 820m / 2,700 feet of ascent and 1140m / 3,740 feet of descent Time required: About 8 - 9 hours (and requires a very early start) We offer two shorter alternatives of 7 hours or 2 hours, using a local bus from Chikatsuyu to shorten the walk.
Ryokan Yunomine Onsen
Japan Kumano Kodo Self Guided or Guided Hiking Tour
Kumano Kodo Trail from Ukegawa to Koguchi
Before or after breakfast, take time to explore the atmospheric village of Yunomine Onsen. Today's journey begins with a short bus ride from Yunomine Onsen to Ukegawa on the banks of the Kumano River. From there, you start on the Kogumotorigoe path, which heads up to Kogumotorigoe pass before descending to the remote village of Koguchi. The trail is not difficult and today's hike should take you about 4 hours. A warm welcome and good food await you at our small inn, run by a charming retired couple. Explore along the river and have a swim if the weather is warm. Walking distance: 12.4 km / 7.7 miles Elevation gain: 520m / 1,705 feet of ascent and 500m / 1,640 feet of descent Time required: About 4 hours
Hotel Oceania Le Jura





Dijon France
Hotel Oceania Le Jura **** Dijon is a 4-star hotel, which has undergone extensive renovation work and completely transformed this historic hotel, which has welcomed travelers since 1857. Located in the city center of Dijon, 150 m from the TGV station, the hotel has become a true cocoon design. Our teams, backed by architects and designers, have transformed Le Jura into a contemporary and luxurious setting. A total of 73 totally new rooms are at your disposal. They offer impressive ceiling heights, beautiful volumes, warm and vibrant colors, and very nice bathrooms with walk-in showers. You will also appreciate the garden, a small corner of greenery that awaits you if you want to relax or recharge your batteries and which, for this hotel with swimming pool in Dijon, houses the wellness area under a glass roof. Two new tram lines stops at the foot of the hotel, the Palais des Congrès is only 10 minutes away from your room. It is also the ideal starting point for an oenological exploration during a stay in Burgundy.

';

';

';

';

';

';

';

';

';

';

';
Japan Kumano Kodo Self Guided or Guided Hiking Tour
Kumano Kodo Trail from Koguchi to Nachi-san
Today you will have an early breakfast and then travel to the remote village of Koguchi, where you start the walk on the Ogumotorigoe Path to Nachi-san. The final section of the trail takes you over the Ogumotorigoe Pass with a glimpse of the Pacific Ocean. It then descends to Nachi-san, the location of Nachi Taisha (Grand Shrine), one of the three 'Grand Shrines of Kumano' and Nachi-taki (waterfall). Stay overnight either in the small village of Nachi-san close to the shrine, or take a local bus for the twenty-minute ride to the port town of Kii-Katsuura with wonderful views over the bay. Enjoy dinner and breakfast served by your hosts at your accommodation. Walking distance: 15.1 km / 9.3 miles Elevation gain: 980m / 3,215 feet of ascent and 920m / 3,020 feet of descent Time required: About 6 - 7 hours
Hotel Nakanoshima
Japan Kumano Kodo Self Guided or Guided Hiking Tour
Kii-Katsuura and onwards by train to Osaka
Kii-Katsuura is an active fishing port and has a lively early-morning fish market. Enjoy the views out over the island-studded bay. There are intriguing backstreets to explore, too. We provide train tickets for you to board a train at lunchtime, travelling back around the Kii Peninsula and arriving in Osaka mid-afternoon. Check in to your hotel in central Osaka and enjoy a night in the neon-bright streets of Japan's food capital. Our standard tour hotel options include the Hotel Monterey Grasmere Osaka – ideally located for easy access to Kansai Airport in a building above Osaka City Air Terminal. Premium hotels include: Marriott Miyako Osaka, Swissotel.
Japan Kumano Kodo Self Guided or Guided Hiking Tour
Departure Day
Your tour ends this morning after breakfast at your hotel. Fly out from nearby Osaka Kansai Airport, or extend your trip with one of our tour extensions.
Japan Kumano Kodo Self Guided or Guided Hiking Tour
The tour package inclusions and exclusions at a glance.
・ standard-grade hotels, or upgraded hotels, in Kyoto and Osaka and our regular inns along the Kumano Kodo trail, all booked and pre-paid
・ train tickets from Kyoto to the trail and from the trail to Osaka (pay locally for bus journeys on Days 3, 5, 6, 8)
・ detailed day-by-day itinerary and walking directions
・ topographical maps
・ local telephone support
・ one day of private guiding in Kyoto
・ 8 breakfasts & 5 dinners (pay locally for drinks with meals, for lunches and for dinners in Kyoto and Osaka)
・ Daily luggage transfer is available as an optional extra service - see the Tour Highlights section.
Lodging
Ryokan & Minshuku
The classic Japanese inn, ryokan come in many styles, but they are united by flawless service and exquisitely-prepared food. Ryokan may be in modern or traditional wooden buildings, however rooms will always be Japanese style. Rooms are simply but elegantly furnished with Tatami (straw mat) floors, and futons are laid-out in the evening by the ryokan staff. Minshuku are similar to ryokan though usually run by a local family, and the style of service may be less formal and the rooms more simply-furnished. Guests typically lay out their own futons. 
Each ryokan prides itself on its cuisine, often featuring local ingredients and always prepared fresh each day. Meals will usually consist of many different courses, with a great variety of ingredients. The meal may start off with sashimi (raw fish), a thin broth, pickles, and vegetables, and then move on to a meat dish, a grilled fish dish, tempura, and end with rice.
As with ryokan, the meal at a minshuku is a highlight of the stay; many minshuku owners grow their own vegetables and fish, meat and other ingredients will be purchased fresh each day.
An added highlight of minshuku is that they may be inside older, more traditional buildings. In the Kiso Valley between Tokyo and Kyoto (Nakasendo Trail) local families have restored 'machiya' style houses in the old post-towns into small minshuku.
Both ryokan and minshuku usually provide cotton 'yukata' robes you can wear after checking-in. Feel free to wear them when going to dinner for a short stroll outside. Ryokan may have private bathrooms, but most minshuku because of the smaller, traditional buildings will have communal (segregated bathrooms). It is usually possible to have the bathroom all to yourself by going when the bathroom is less busy.
At the Japanese inns on the tour, tatami-mat rooms are culturally less 'intimate' spaces than western bedrooms and Japanese guests travelling in a group are accustomed to sharing. We follow this Japanese custom on our small-group tours and will ask solo travellers to share a tatami-mat room with another group member of the same gender.
More details and information about etiquette, bathing, etc will be sent in advance of travel.

Prices
Japan Kumano Kodo

Double Occupancy - standard hotels:

US$1910/person

Double Occupancy - Upgraded hotels Kyoto & Osaka:

US$2495/person

Single Supplement - standard hotels:

US$770-$1145/person

Single supplement is when 2 people or more are traveling together but require a single room. For Solo travelers, please inquire about supplement. LUGGAGE Transfers will also require a supplement, you have 2 choices; one very economical and the other more expensive. See the Hightlights tab.
Tour Details
Tour Highlights:
- Big City Visits to Kyoto and Osaka
- UNESCO recognized pilgrimage trail
- traditional Japanese inns - known as Ryokan

Need to Know:
- Self guided hiking with telephone support, guided city walks
- Challenging hiking tour, can be moderated with some local bus transfers
- Luggage transfer options not included - 1 of 2 choices must be made in advance; see below
- Orientation will be 9am Day 2
Duration:
9 days / 8 nights
This trip as shown is Self-guided
but can be done as a guided hiking trip by joining other existing departures.
please inquire
Total length:
66km for 7 hiking days.
Level:
Fit
Level 4
Train tickets between key cities included, you must pay other short local transport on hiking days as needed.
About Luggage Transfers:
If your self-guided tour includes village-to-village trail walking, you will want to carry just a daypack on those days. There are two options for dealing with your main luggage while walking on the trail: Takkyubin Courier or Daily Luggage Transfer.
Local Coordinator
 All of our guides are professionally licensed and registered guides. Here are details of a selection of our guides.
Ritsuko Nakayama - Ritsuko is one of our regular guides and she knows a lot about Kyoto, Osaka and Nara area. Her knowledge of Japanese history is deep and wide. She is good at introducing it to clients with humour.
Masayo Uchimoto - Masayo knows Western Japan and especially Kyoto and Osaka well. She provides unique walking tours and loves to meet people and make their visit to Japan enjoyable.
Mie Takei - Mie leads walking and cycling tours in Kyoto and Sagano. She is excellent in providing the stories of Kyoto to visitors.
You will have telephone support during the self-guided hiking trip throughout this tour. A fully guided version of this trip is also possible. We work with Oku Japan, a local operator and outfitter adapted to working with western travelers.
Reviews
This trip is new for Pure Adventures in 2016, but our partners have been operating this trip for many years. Please ask us for review information. 
On this trip we recommend:
- trekking shoes, well broken in
- trekking poles
- lightweight clothing that is wicking, convertable, sun protective
- other nice to have items will be included in your packing list sent prior to travel

A packing list is always sent at 60 days prior to travel. NOTE: luggage transfer is not automatically included in the trip price. There are 2 options, we recommend the one that uses local transport services in the region of this tour; it is very affordable and well done. This service moves bags ahead 2 days so that you will need to carry a day's worth of overnight items on your hikes. You should pack light and you won't need much at your hotel as some clothing is provided by your lodge owners. You should plan your pack in function of this.

Some other things you may want to bring:
- GPS - Smartphone with GPS app, and local SIM card for low cost calling - Hydration pack like the one shown - or a hydration bladder that fits in a larger day pack.  
Request your free Destination Guide and get a PDF summary of this tour by email.
Our Destination guide will give you general travel info about this country; best time to travel, interesting sites, airports, weather, and more. We will include a PDF summary of this tour as well.