Tour Details
Dates: March 15-November 15. This is self-guided touring and offers total freedom of dates - you can choose whatever dates you wish. We can accommodate small parties of 2 persons up to large groups. Custom guided groups are possible for groups of 6 or more; please inquire.
Level 3+ - Consistently hilly countryside with mostly hilltop finishes; challenging terrain can be moderated or made more challenging by daily mileage.
Options

Ride options - longer/shorter
Florence/Rome add on
Custom tours for groups
Local Coordinator
Marco and Giuliana are our on site experts, they live in Tuscany and will meet you for orientation on arrival day as well as provide emergency support throughout your trip.  
Map & Profile
Overall Tour Map
---
Customer Comments
"I wanted to write and let you know how marvelous out trip to Tuscany was and thank you for arranging such a wonderful biking tour. Giuliana and Marco were terrific and made sure we had everything we needed. The route maps were easy to follow, our hotels were terrific and the bikes satisfactory for our Tuscany adventure!! "

- Julie S./USA
"I really want you to know what a FANTASTIC time we had on this bike ride! Everything about it was wonderful---the bikes were excellent, the tour organization was excellent, all the hotels were fine (some better than others, but all clean, comfortable with very friendly and accommodating staff). Overall, this was an amazing experience and truly great adventure."
- Margie K. and Rich R./USA
Itinerary
Click on a day to see that days itinerary.
DAY 1
DAY 2
DAY 3
DAY 4
DAY 5
DAY 6
DAY 7
Day 1 l Arrival Day in Montepulciano
Arrival Day - we will meet you in Montepulciano & vino nobile. Arrive by train at Chiusi and either bus or taxi to hotel.
This splendid little town - whose artistic and architectural heritage led it to be called the Pearl of the Cinquecento - has preserved its beauty intact. Going up the steep streets of its outlying districts you will discover beautiful palazzos and churches imbued with the unparalleled art of foremost Renaissance architects. Orientation meeting late afternoon and then dinner on your own. Some foods to try in Italy
3
Montepulciano Tuscany
The Duomo hotel, in Montepulciano's old town center near the Piazza Grande, is a small, welcoming family-run hotel situated in an old Renaissance Palazzo. What sets the Duomo apart is the attention they pay to their guests, creating a relaxing and intimate atmosphere. The 13 rooms are furnished in a simple rural Tuscan style and fully equipped with satellite television, telephone, hairdryer and minibar. A rich breakfast with a buffet of typical Tuscan produce and homemade sweets will bid you good morning each day in our breakfast room/bar or, on hot summer mornings, in the walled garden. In the evening, sip a glass of vino Nobile di Montepulciano wine by the fireplace, the perfect aperitif before dining in one of the traditional Tuscan osterie near the hotel. The Duomo hotel is perfectly positioned as a starting point for tours exploring the art, nature, food and drink that Tuscany has to offer.
Rates | What's Included | Bike Info
Rates & Services
Prices
Tuscany 6 nights - standard version

Double Occupancy:

1366 €/person

Single Supplement:

420 €/person

Tuscany 6 nights - upgraded version

Double Occupancy:

1925 €/person


Single Supplement:

563 €/person


Triples available in some locations, please inquire.

Private transfers from Chiusi to Montepulciano or Pienza are available and start at 70 euros for up to 4 persons.
Hybrid Bike Rentals are available for a supplement of 105 euros, please see the bike info below for details. Road bikes are also available for 150 euros.
What's Included
- Deluxe lodging 3 and 4 stars - double room with private bath
- Buffet breakfast daily
- All luggage transfers from hotel to hotel
- Local emergency support throughout your tour during daylight riding hours
- Arrival orientation and bike set up
- Route maps, route cue sheets with suggestions for visitation and site information
- All pre and post travel planning services
- A package of pre-travel documents sent electronically to help you prepare for your trip.
Lodging
Accommodations: Stay in deluxe 3 & 4-star hotels in convenient locations. All lodging includes private bathroom and a variety of other amenities. Hotels included:
- Albergo Il Marzocco
- Hotel San Luca
- La Locanda di Montisi
- Hotel Il Chiostro del Carmine

- Hotel Il Giglio

- Relais il Chiostro.
** Please see Itinerary tab for more information **

Bike Info
Bikes Available on This Tour:
Custom hybrid

Aluminum frame; carbon forks; components Shimano Deore 27/30 speed (9 and 10 speed models); upright handle bar; road wheels with road tires. Though these are hybrids, the wheels and tires are road models; not adapted for off road riding. Bikes come equipped with handlebar bag, lock, water bottle, gel saddle, tire repair kit, cycle computer. Hybrids are fitted with thin tires for better road performance. 105 Euros


Included are:
Helmets, (one size fits all).
Computer (odometer): Wireless odometers.
Saddlebag - On Road Bikes only and contains the puncture kit
Pannier for hybrids - 1 per bike standard.
Handlebar bag with map reader
Puncture kit: Tire levers, spare inner tube, patch kit included
Lock included
Frame pump included
Pedals: flat or with cages. Travelers may bring their own clipless pedals to have installed. If you bring your own pedals, please bring your own wrench to remove them from the bike at the end of the tour. Road Bikes are also available on most tours in this region. For more details, click on this link: Road Bike Options Road bikes: Carbon fiber OR Scandium frame; carbon fork; Shimano Ultegra compact gear 20 speed (Compact: 50/34 in front and 12/27 in the back); groupo is ultegra; drop handle bar; race wheels, Look and SPD clipless pedals available; or you bring your own clipless. Road bikes with drop bars do not carry handlebar bags; only saddle bag with tools. 150 Euros
Additional Information
Request your free Destination Guide and get a PDF summary of this tour by email.


Our Destination guide will give you general travel info about this country; best time to travel, interesting sites, airports, weather, and more. We will include a PDF summary of this tour as well.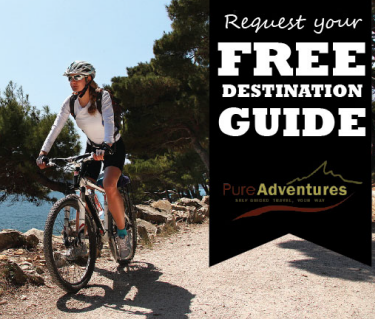 Photos & Videos
Get the flash player here: http://www.adobe.com/flashplayer