Tour Details
Dates: November 1 - April 30.
This is a Self Guided tour which offers total freedom of dates - you can choose whatever dates you wish. We can price this tour to operate with as few as 2 persons but can go up to larger groups of 12.
You form your own group and choose your dates.
Please contact us with questions about your group or departure date:
Our Contact.
Level 3 or up to 5 - The mountain biking in these regions are rideable by most experienced cyclists; beginners not recommended. There is enough moderate terrain to fill the itinerary but very challenging options exist for strong, technical riders.
Options

Ride options - longer/shorter on some days
Scottsdale add ons
Custom tours for groups, Hotel lodging, more
Other Tour Details: This is a self-drive tour; we will fit your car with a bike rack at the first meeting and cover all the route info throughout.
Your car rental is not included; but we can make arrangements with advance notice. Upgraded rooms possible, please inquire at time of booking. High performance bike upgrade ($125-175 per bike) Giant Anthem and Trek Superfly AL 100 ADD ONS: combine some road riding routes or Multisport adventures: combine hiking, kayaking, horse back riding, and so many other adventures! We can build you a perfect package! About the riding: while this is a mountain biking trip, the riding can be almost entirely free of technical obstacles. Options for more technical rides exist. We encourage riders who have some mountain bike riding experience to join, but it isn't for someone with no mountain bike experience. As a mountain bike tour, we rate this moderate to challenging - there are options for most all levels. 
Local Coordinator
Josh's attention to detail and keen awareness of what makes a great trip is apparent from the time you meet him. Josh began a National Outdoor Leadership course earning his Wilderness First Responder and even becoming a certified Master of Leave No Trace. In addition to his guide work, Josh utilizes his other talents designing dozens of custom adventures for our guests. 
Map & Profile
Overall Tour Map
---
Itinerary
Click on a day to see that days itinerary.
DAY 1
DAY 2
DAY 3
DAY 4
DAY 5
DAY 6
DAY 7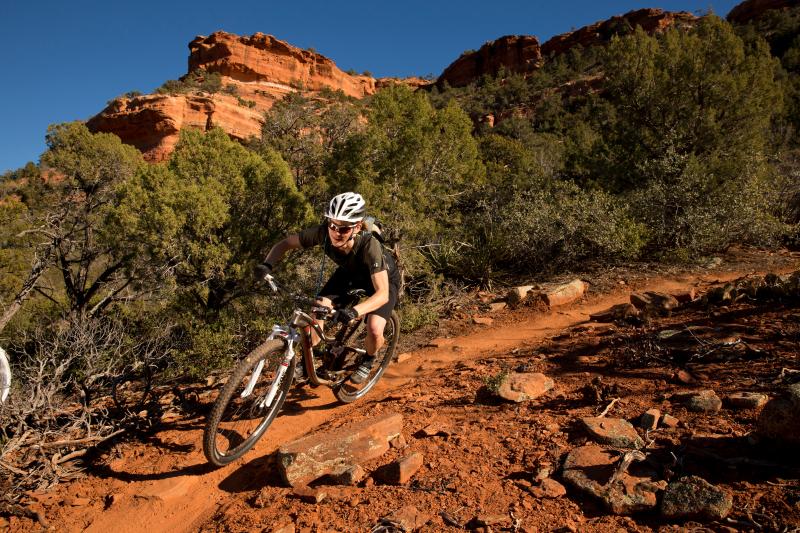 Day 1: arrival - meet in Scottsdale at AOA-Pure offices
10 am meet in Scottsdale at AOA-Pure offices for bike set up, orientation, and bike carrier install. You will also meet with your trip consultant to review all of you planned rides and reservations (arrive by own rental car). On the way to your Resort, get on your bikes and ride! Nearby is the Brown's Ranch Trail system, a great way to start out and test your bike and skills on the desert terrain. None of the recommended routes are technical, but riding can be from 1-4 hours. Lodging: Carefree Resort Riding: 8-miles +  
4
Carefree AZ
Just North of Phoenix and Scottsdale, Arizona lies a desert gem, the Carefree Resort & Conference Center. Here you can embrace the Southwestern lifestyle in total relaxation. It's a place of soothing and simple spaces with uncluttered panoramic views of the Continental Mountains. Play tennis, enjoy the Spa, or simply relax at the pool with a margarita. For couples, families or groups, Carefree Resort & Conference Center is a year-round destination that truly lives up to its name.
Rates | What's Included | Bike Info
Rates & Services
Prices
Sedona Desert Winter Mountain Biking Tour

Price Per person based on double occupancy with a minimum of 2 participants:

US$1169/person

Price Per person based on double occupancy with a minimum of 4 participants:

US$1125/person

Single Supplement:

US$499

Guides are included for 1/2 day during rides in Sedona to add extra time or added rides :

contact us
Upgrade Rates: upgrades to Chalet level rooms in Sedona, or other hotels possible.

Larger groups share cost savings; and guiding becomes very affordable, please inquire.

Any departure date possible; you travel with your own group.


Bike Rentals are not included, higher quality bikes are available for a supplement, please see the details below for the bikes we offer.
What's Included
INCLUSIONS:
- Route Book and personal review with expert staff day 1 and 4
- 3 nights lodging at Red Agave Resort – double occupancy
- 3 nights lodging at Carefree Resort– double occupancy
- orientations on Days 1 and 4 to cover rides in each locale
- 1/2 day GUIDE led rides in Sedona, Days 5/6/7
- Emergency support locally in each locale
- Route books with driving info, restaurant suggestions


NOT INCLUDED:
- Airfare to and from Phoenix
- Airport transfers
- Park Entry fees and Red Rock Pass
- Pre- and post-trip accommodations
- Optional gratuities to Pure Adventures staff
- Transportation
- Personal insurance and expenses
- Rental Mountain Bike and emergency repair kit– Giant Revel or equivalent
- Gloves, helmet and specific pedals when requested with rental are included

OPTIONAL UPGRADES:
- Guide Services - on request, this can be a fully guided or partially guided trip; our guides are professional Wilderness First Responder certified
- High performance bike upgrade: Giant XTC Hardtail 29er or Trek Superfly AL 100 ($205-325 per bike)
Lodging
Accommodations: charming hotels in each location with intimate settings and incredible views. All lodgings include private bath and a variety of other amenities. Hotels include:

- Carefree Resort
- Red Agave Resort
** Please see Itinerary tab for more information **


Bike Info

Photos & Videos
Get the flash player here: http://www.adobe.com/flashplayer