Overlooking the sea, encircled by mountains that transform with the season riders cross the region of Emporda, a Spanish Designation of Origen (DO) (Denominacio d/Origen in Catalan), formerly known as Emporda-Costa Brava, for wines produced in the northeastern corner of Catalonia. The list of wine producers that make up this dynamic sector in Emporda today is very long. You are invited to visit the best wine cellars and will discover all kinds of wineries, of different sizes and origin. Grapes cover a wide range; Grenache (here known as Lledoner), Carignan in many varieties (white, red, young wines, fruity roses and of course, excellent coupage crianzas) and the emblematic Garnatxa, considered as a dessert wine made with its variety.

The climate makes our wines very special: mild temperatures, rainfall mainly in winter, the strong Tramuntana wind and the dark, lime content soil give are reflected behind a glass of our wines. The traditional cuisine and the prestigious modern gastronomy complete the experience. The hand picked cycling itineraries allow moving at your own pace and choosing the wineries according to your preferences.

The first part focuses on the magnificent area of Baix Emporda, also known as the Catalan Tuscany for its beautiful countryside between the Sea and the mountains. In the second part of the tour riders have the opportunity to discover the northern county Alt Emporda with its long sandy beach next to the important Greek-Roman ruins of Empuries and numerous wineries of all sizes. The bike route ends in Figueres, famous for the Theatre-Museum Dali.
Enjoy very charming to deluxe accomodations while discovering the wine treasures of this sunny region. This tour offers coastal riding and also crosses the inland areas between Girona and the countryside around Figueres to the north.
Some Blog Reads: 5 Reasons to Cycle Catalonia | Sant Marti d Empuries | 5 Foods to try in Spain | Wines of Catalonia | 5 Towns to Cycle in Catalonia | Training in Spain | Hidden Gems of Costa Brava | Paella Recipe | Gazpacho Recipe | The Wonders of Barcelona | 3 Spanish Recipes |
Tour Details
General Tour Information
Duration: 8 days & 7 nights
Dates : Any date. On request from March 30 - Oct 31, high season is March 29 - April 4, and June 15-Sept 15. This tour cannot start on Sunday or Monday.
Level 2- Moderate - flat to rolling countryside with a small amount of unpaved, quiet routes. Some unpaved sections are gravel and rocky.
Self Guided Travel - Learn More
Options: Hotel Upgrades as noted in the price tab.
Wine tastings are possible throughout this trip.
Girona stop overs
Local Coordinators
Our local staff is there to help you during your trip; Bo lives in Catalonia and will meet you for orientation and provide emergency assistance throughout your trip.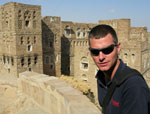 Customer Comments
"The trip was the most relaxing time I've spent in 20 years. I learned how to slow down. There were no TVs, radios, phones, internet or clocks. Just listening to the birds chatting outside the window was the music for the evening. We spent a lot of time speaking Spanish (and Catlan) while getting to know the hosts and other B & B world travelers. Thanks for a memorable vacation!"
- Mark M.

"The tour was GREAT, every day was like a treasure hunt, great new places to discover! the food, of course was unbelievable, and the best meals we had were at little places we discovered along the way for lunch, mostly three star cafes. the scenery was also unbelievable, the coast is great and the foothills were also fun and beautiful."
- Dan. G

"We had a great experinence. Terrific support and info from Maggie, Saskia and Dave."
- Al B.

"Your itinerary was really excellent and we all felt we got a true feeling for Northern Spain--the interior with the medieval villages and then the costa brava was wonderful."
- Jan T.
"We had a fantastic time and absolutely loved our trip. It will be a long time until we could ever go again, but we are already recommending the trip to our friends and family.!"
- Nancy A.
Itinerary
Click on a day to see that days itinerary.
DAY 1
DAY 2
DAY 3
DAY 4
DAY 5
DAY 6
DAY 7
DAY 8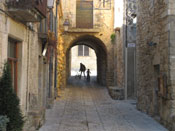 Day 1 | Arrival in Girona
Arrival in Girona at the train station or airport and transfer on your own to your deluxe 4 star lodging in the historic old town. The lodgings are all located a short walk or taxi ride from the station in the town centre. There is plenty to see and do in this interesting and vibrant city. Girona is famous for having one of the best preserved Jewish old towns in the world, the Cathedral boasts one of the largest stone vaulted spaces in Gothic architecture and the walk along the cities ancient walls is a recommended highlight. This combined with hundreds of restaurants and bars and a thriving coffee culture make Girona a great place to spend a few days. Your hotel is a 4 star lodging and you hare in a junior suite for lots of space! Dinner on your own - we'll give you several suggestions among the many good options available. 5 Foods to try in Spain
4
Girona
The lovely boutique-hotel Hotel Historic is a nice little hotel and apartment-house just within the ...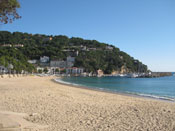 Day 2 | Transfer to Romanya de la Selva. Bike ride Romanya de la Selva - Llafranc (30 km)
At 9:00 am we will come to the Girona hotel to pick you up and take you to the ride start; be ready to roll! Transfer from Girona to mountain top village Romanyà de la Selva (30min) offering panoramic views over the Gavarres mountain. Orientation meeting and bike set up.

Start your bike tour with an incredible downhill ride following a tranquil road to the coast near Palamos, the most important port town in the Girona province. Why not try a typical prawn dish or some tapas in the old town? The bike route continues along La Fosca beach and the lovely Castell cove passing through Mediterranean scenery full of cork trees and the Greenway Bike Path Ruta del Tren Petit, a former narrow gauge railway line. Your ride ends in the charming seaside town Llafranc at a hotel right at the beach with a superior sea-view room and tasting dinner menu included tonight! (B,D)
Extensions: To small family-run winery Can Sais with a long vinicultural history, orVall-llobrega at the foothills of the Gavarres mountains: + 8 km; or To Botanical Garden Cap Roig, Calella de Palafrugell: + 3 km
3
Llafranc
Right by the sea in the traditional fishing village of Llafranc, the Hotel Llevant is a welcoming fa...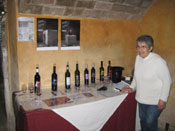 Day 3 | Llafranc – Hostal Empuries (45 km)
Ride through the area 'Empordanet' with a great variety of beautiful landscapes with many historic villages and towns like the medieval Pals, Peratallada and Palau-Sator. These villages are full of atmosphere and offer a great opportunity to join the locals for a snack or drink on one of quiet village squares. Highlights include the walled villages of Pals and Peretallada and the optional visit to the Jam Museum in Torrent.
The route continues to the north passing the Montgrí massif into the county of Alt Emporda. We enter the long Bay of Roses with long, sandy beaches. Next to the pretty medieval settlement Sant Marti de Empuries and right in front of the superb beach, we should take the time and visit the archeological complex Empuries with Greek and Roman ruins dating from 600BC, the gateway of the classic cultures to the Iberian Peninsular. The city of Emporion was an important trading post in the Roman Empire and from where the region takes its name. Nice Eco-hotel tonight; dinner on your own. (B)
Options: Winery Mas Oller
3
L Escala
Hostal Empuries stands on an ancient settlement, beside the Greek and Roman ruins of Empuries, whose...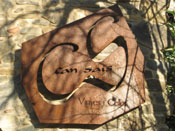 Day 4 | Hostal Empuries – Castello d Empuries (35 km)
Arriving to Siurana you can visit the olive producer of Mas la Bomba, Olis Dauro. The route then continues north where riders will be staying in the cathedral town of Castelló d´Empuries set in the protected marshlands of Aiguamolls de lEmporda.

Options: Visit to Olive Oil farm "Olis Dauro";
Charming but basic hotel tonight with fantastic views over the Bay of Roses. Dinner on your own. (B) No wine visits on this day.
2
Castello d'Empuries
This traditional hotel dates from the early 20th century and offers fantastic views over the beautif...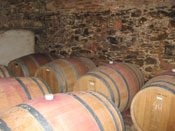 Day 5 | Castello d Empuries – Garriguella (40 km)
Today we explore the marshland nature reserve surrounding the town, a stunning countryside with rivers and ponds that from an important bird sanctuary. Later we approach the foothills of the Pyrenees and its typical olive groves and vineyards. We are entering the biggest and most important wine growing and producing region within the protected geographical region Emporda/Costa Brava. You shouldnt leave without some of the best producers: we recommend visiting the family run winery Celler Espelt, Vilajuiga and the cooperative wine and farm shops Empordalia in Vilajuiga and Pau. En route riders will pass through the village of Peralada, famous for its cava production the Catalan version of champagne, just as good as the original. Dinner included tonight. (B,D) Wine with tapas (10 euros ea) at Empordalia, or Pau/Vilajuiga. Also possible is a Cava tasting (Catalan champagne) at 6 euros ea.
3
Garriguella
In the centre of the village of Garriguella lies our hotel-restaurant, with its outstanding charm...
Day 6 | Garriguella - Cantallops (27 km)
Day 6 takes riders further into the main wine producing region of the area. This ride provides fantastic views of the Pyrenees as a backdrop while riding through the 100 year old vineyards. Today the most interesting wineries are the small La Vinyeta (Mollet de Peralada) and the cooperative in Espolla where the celler cooperatiu offers wine, olive oil and other agricultural products from various local producers. There should be time to taste some of the wines at the small traditional family winery Vinyes dels Aspres or Bodegas Masia Serra in Cantallops. Dinner included tonight. (B,D) Wine tastings possible at Vinyes dels Aspres, Cantallops at 5 euros ea.
4
Cantallops
Can Xiquet, a hotel where luxury is deemed as a convenience, stands gallantly in a privileged locati...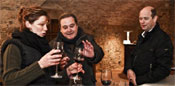 Day 7 | Cantallops to Figueres (ca. 28 km)
The last bike tour is a long downhill ride until arriving to our final destination, the city of Figueres. A rewarding detour takes us to the village of Capmany which can boast with having the highest number of wineries in the Emporda area. Highly recommended are Celler Oliveda and Celler Pere Guardiola. En route to Figueres there are two more precious sights worth visiting: the oldest oil mill in the Emporda and the Romanesque Monastery in Vilabertran. After arriving to Figueres riders can enjoy a visit to the world famous Theatre-Museum Dali which is still the most visited tourist site in Spain. Night in Figueres and dinner included. (B,D) Wine tasting at Celler Oliveda, Capmany at 5 euros ea.
3
Figueres
Set in the heart of Figueres, in the upper part of the Rambla, right in the historical and business ...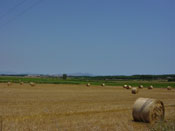 Day 8 | Departure Day.
You are free to depart at your leisure after breakfast. Trains from Figures run back to Girona and Barcelona or north to France. We are happy to help with additional stays. (B)
What's Included
* 7 nights top quality lodging
* breakfast daily
* 4 quality dinners
* luggage transfers between all hotels
* local Girona based emergency support throughout the trip
* orientation and bike set up
* Day 2 transfer
* road books with riding route maps and cue sheets, suggestions for visitation and lunches
*reservations for wine tastings can be arranged when requested in advance. Additional services and stays can be arranged separately. Prior to travel you will receive a complete set of pre-travel documents to help you finalize your preparations and arrange any additional services you may need.
Accommodation: "Standard" tour Pricing includes 2/3/4 star hotels; Upgrades of rooms are possible in some locations, please inquire.
Standard Tour hotels: Hotel Historic****, Hotel Llevant***, Hostal Empuries***, Hotel Canet**, Hotel La Placa***, Hotel Can Xiquet****, Hotel Duran***

Note about wine tastings: most wineries are closed on Sundays; so in your planning keep this in mind. Wine visits are always subject to availability; sometimes an alternative can be available, but the sites mentioned in the itinerary are the easiest and best stops. Prices for visits are NOT included in the tour and are mentioned in the itinerary. Wine tasting is OPTIONAL; you can choose not to do it. We will cover this in detail at orientation and give you details for each place. Reservations are sometimes necessary and will be made by our Girona staff after orientation.
Bike Rental: available on this tour for a supplement; please see the bike rental tab.
Tour Rates
Standard Tour Price; Per person based on double occupancy: (hotels with superior room categories & meals as shown in daily itinerary)
Low Season: 1395 Euros per person
High Season: 1459 Euros per person (high season: March 29-Apr 4, June 15-Sept 15)

Single supplement when 2 or more persons are traveling but in separate individual rooms:
Low Season: 185 euros
High Season: 205 euros
Basic Tour Rates: per person based on double occupancy: Includes no dinners and standard rooms.
Low Season: 1139 euros/person
High Season: 1219 euros/person

Solo supplement (traveling alone): TBD according to season

Hybrid Bike are available for a supplement of 105 , please see the Bike Rental tab for all details about the bikes we offer.
Private transfer Barcelona or BCN to Girona: 230 euros for up to 4 persons.
Customize this tour for groups of 4 or more

(convert from euros)

You are important to us; so we make you thoroughly prepared and include:
Pre-trip travel documents: you will receive extensive information as a customer prior to your departure, see below. Upon confirmation of your tour we will send you some general information about preparations including passport info, training tips, and reading lists, cell phone rental, travel insurance, and more!

Upon final payment, we will send to you a complete list of documentation by email including Hotel List, contact numbers, itineraries, a packing list, regional information about sites, culture, regional specialities, important towns and historical sites, general France travel information, bike travel tips, vouchers, train travel tips, language phrases, holiday info, tour details, culture and customs tips, and much, much more!
Bike Info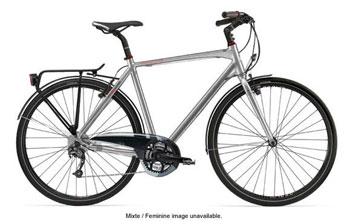 CANNONDALE Bike rentals are available for all tours in Spain. Click on our Rental Page link to know more about the Hybrid model on this tour. A road bike version of this tour is also available that includes a different ride itienrary than for the hybrid bikes. See the specs/details of our road bikes at this link: Road Bikes in Spain.
Cannondale Hybrids are available on this trip. Note: pedals are flat or with clips; if you bring your own clipless pedals and shoes we can install them. Note, the routes for the hybrids on this tour uses some unpaved roads. The bikes are perfectly adapted for these routes; which were chosen for the serenity they offer away from cars and traffic. Designated as bike paths, many cyclists use them; they are simply unpaved.
A road bike version of this tour is also available. The route is different and takes you only on paved surfaces. All else is the same for hotels and services if you choose to do a road bike version. Road bikes are more expensive to rent than hybrids. Rates are from 155 euros.
Hybrid Bike 105 euros: [Click for image] See the link for information about equipment, frame types, added gear, etc. Travelers can bring own clipless pedals to be installed.
Map & Profile

Overall Tour - see individual stages below:

Day 2: Romanya - Llafranc

Day 3: Llafranc - Empuries

Day 4: Empuries - Castello

Day 5: Castello - Garriguella

Day 6: Gueriguella - Cantallops

Day 7: Cantallops - Figueres

Photos & Videos
Get the flash player here: http://www.adobe.com/flashplayer