Supported Self Directed - New Way to Travel
July 2014 - Pure Adventures is launching a new way to experience hard to manage itineraries!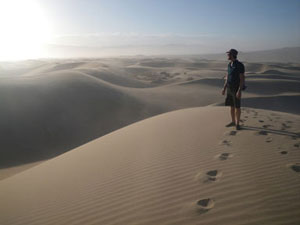 In 2013 Pure Adventures launched a large range of cycling and hiking tours in the Western United States; one of our first steps outside Europe on our way to more and more destinations. As we know from our staff who live in the USA West, it is a big place with wide open space. Great for amazing natural scenery but hard to visit on your own by bike or foot without some support. We have introduced tours that depend on vehicle rental, but we quickly realized we needed to offer more support on a day to day basis - the kind of support traditionally found in a guided trip - but we were insistent on retaining our independent nature and great value prices! This led to the creation of our new label: Supported Self Directed Travel - cycling tours, multisport tours, and even running tours, hiking tours, and more. [Get summary PDF]
Imagine cycling Death Valley National Park - they call it Death Valley afterall! Not many places to stop for a drink, some shade, a museum, some friendly chat, etc. But, what a great place to ride! Fantastic roads, amazing scenery, and unique! Next, imagine crossing the Pyrenees on your bike. Sure, lots of little towns and fresh water and shops. But, riding 100km per day in remote mountains with tiny villages with shepherds for locals who speak local dialect; such charm but a chance to take all on your own! Not to mention very expensive to arrange all those 100km luggage transfers!
These are just 2 examples that show the need for a supported trip. There are many more reasons and as most of the traveling public worldwide travels with a guide, this is obvious. But what if you could have a supported trip where you could retain the independence of a self-guided trip: ride your pace without an onerous schedule, stop when you want, eat where you want, take as much time for dinner as you want, eat the food you want, etc. This is our goal, and this is what we provide. Pure Adventures rolls this out in 2014 with new Supported Self Directed (SSD) trips in Death Valley, Bryce & Zion National Parks, Epic Climbs of Arizona, Cycling Arizona Borderlands, Yosemite to San Francisco, and several more. Coming in 2015 will be new and challenging Trans-Pyrenees trips, Trans-Alpes trips, and other long distance rides with less mountain climbing demands. 2014 is only the beginning!

What is Supported Self Directed - what it includes and why its different:
Ride leader - not a 'guide' per se; but a person who knows bike mechanics, has trip leading experience, and can fill the role of support person:
- provides vehicle transport to ride starts if needed; including shorter ride options
- provides SAG stops every 20-30 miles of each day's stage with fresh water and healthy snacks
- ride briefing to cover the day's ride with suggestions, water stops, bathrooms stops, caution points, etc
- provides transport to buy your own groceries/nutrition for lunches or dinners
- provides transport to restaurants for dinner when none are within walking distance
- suggests local sites, bars, beers, foods, wines, restaurants for you to try - on your own
- offers a ride and assistance to tired riders during a stage
- offers bike service during a stage and at the end of the day
- brings peace of mind to a trip; especially when it is a challenging route or weather is a concern

Vehicle Assistance - throughout the trip; a comfortable vehicle is used to transport all luggage, bikes, participants


Meals Not Included - part of keeping the program independent; you have choices - spend large or eat light; as you wish!
- on our USA trips we include a small personal cooler and grocery store trips to stock with your own supplies! Leaving meals out also keeps trip price down and you can choose what you want to eat - or not!


Professionally planned routes with an eye for safety and scenery with route books for each rider to ride your speed without a guide
Top quality bicycles and professional mechanical review
Non-riding companions are welcome; making it easier for a couple of differening interests to travel together
Lodging always included! Upgrades available; and its possible to have participants in different levels of accommodations on the same departure!
Fixed departure dates! Important - this allows us to group up at least 6 participants to share costs and keep it affordable for all.
Custom departures: Do you have your own group of 6 or more - no problem; You travel on the dates that work best for you and your group

TO KNOW - it is important to emphasize that you are not being guided. You have support as a last resort. You need to be able to navigate your own ride; using the maps and ride notes provided. You are on your own to manage meals; except when no restaurant is within walking distance your leader will make 1 transfer to a restaurant or central restaurant area with 1 time for free return transfer. If you want to stay out later or do your own thing, you are on your own for transport. We are not organizing group activities like site visits, wine tastings, games, or similar activities found in a fully guided trip. You may bring your own bike. If you need bike build, shipping, breakdown and packing that is available for an added fee. Trip distances tend to be longer than most of the self guided trips we offer - therefore these tours tend to be more challenging.


Is this a good option for families? The answer is Maybe! Remember this is not a guided trip; but it is supported. Your children need to be able to ride the distances prescribed - short or long. It is probably not suitable for young children, but we have had many parents take their young children on self guided trips before; so depending on you - it is possible! We also do custom guided trips for families, so if this sounds like something might like to do but want more; let us quote you a custom package!

Can you read a map and follow road signs?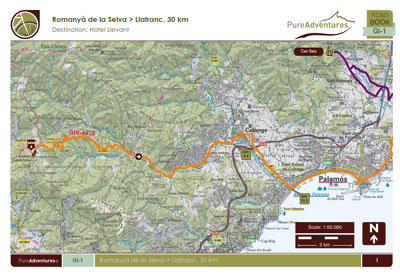 Just like a self-guided trip; you need to be able to navigate on your own. We include excellent riding maps, route notes, and offer GPX files for use on your device. We can even offer GPS rentals in most cases for a supplement.
At a Glance: Advantages vs. Disadvantages
The following table may help you determine which is the right option for you and your companions. Note, it is very important to look at all the services other companies include in their rates. Most quality guided tours are very complete and very deluxe. Many self-guided offers are very cheap, especially in Europe direct from the local outfitter as they use very low quality lodging, equipment, and offer little to no assistance. . [Get summary PDF]
Pure Adv Guided

Pure Adv SSD

Pure Adv Self Guided

Departure Dates Open

N

N

Y

Full time Guide or Leader

Y-guide

Y-leader

N

Guide/Local Contact Support

Y

Y

Y

Personalized Groups - custom made for your party

Y

Y

Y

Professionally Planned Routes

Y

Y

Y

Baggage Transfer

Y

Y

Y

Meals Included

Y (varies)

N

Y (varies)

Transfers Included

Y

Y

N (varies)

Any group size allowed

N (only for custom)

N - min 6

Y

Guaranteed departure

N (varies)

Y from 6

Y

Emergency Help

Y

Y

Y - telephone

Professional Travel Services available for add-ons, etc.

Y (varies)

Y

Y

Typical prices: $-$$$$

Inexpensive to Very Expensive

$$-$$$$

$-$$$

$-$$$
Still have questions? Call us toll-free at 1-800-960-2221 and we'll be happy to help you plan the right vacation.