At Pure Adventures, we know all about the Tour de France after operating trips there for the last 10 years under our former brand, and with that experience we are very excited to be the exclusive partner for Bike Switzerland at the 2013 Tour de Suisse! The access is better, the crowds MUCH smaller, the roads far less congested, and the ambiance is more fun because it is easier with better access! If you want to enjoy some challenging cycling over mountain roads and green valleys, while enjoying a pro tour with PRO level VIP access, then this is it!

General Tour Information
Duration : 6 nights
Dates : June 9-15, 2013 in conjunction with the UCI race Tour de Suisse, or Tour de Switzerland.
Level 3 : Challenging - the cycling on this program is meant to challenge with lots of climbing including some big mountain climbing of category 1 and HC category routes. There will be some milder days too, but average will be 4 hours in the saddle and around 80 km per day riding.
VIP Access: as the only VIP tour operator to the Tour de Suisse, our partner Bike Switzerland, brings the race and back stage access to our guests. Participants will attend a stage finish, visit team buses, meet former pro riders and cycling celebrities, attend a stage start, go on the winner podium for pictures, and get to meet the Tour director.
Group size: Maximum 20. Early booking is encouraged.
Itinerary
Click on a day to see that days itinerary.
DAY 1 DAY 2 DAY 3 DAY 4 DAY 5 DAY 6 DAY 7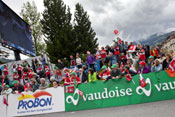 Day 1- June 9 | Arrival Day at Interlaken
Fly into Zurich or Geneva and board the train for Interlaken directly from the airport. If you like, we can work with you to purchase train tickets before your arrival. Keep in mind that we are offering brand new BMC racing bikes for this trip, so no need to pack more than your suitcase!
Once in Interlaken, you will walk across the street to your hotel, meet your guides and unpack before going downstairs for your bike fitting. We will be enjoying an early dinner this evening at the hotel so that you'll feel refreshed for our start tomorrow morning. Lodging in Interlaken area, just outside town, but close to the shops, and with snow capped peaks in all directions. (D -- dinner included tonight)
Lodging: Seehotel Bonigen - nice 3* plus; excellent restaurant and beautiful setting; newly remodeled family run hotel.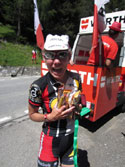 Day 2 - June 10
Highlights: Grosse Scheidegg climb, Reichenbach Falls, Tour de Suisse Stage Finish VIP Style
Total KM: 50
Total Meters gained: 1458
After a hearty bowl of muesli and several bowls of coffee, we begin our cycling with a tough ascent up Grosse Scheidegg (1,962 m). Once at the summit, we'll picnic on sandwiches and chocolate before plunging to our destination: Meiringen. Leave your bikes with your guide: its time to experience the Tour de Suisse in VIP style! In the VIP tent we will sip wine and enjoy some warm dishes before watching the riders cross the finish line right under our noses ! (This viewing access is only available to VIP participants only, the public does not have the same availability!)
You are likely to be very surprised by the cozy and intimate feeling at the Tour de Suisse. Talking shop with former pro racers or team owners in the VIP tent happens every year. You will be amazed by the natural camaraderie that plays out between these professionals and yourself.
We then walk through the Tour de Suisse "village" and take in the atmosphere as we make our way to the team buses to see the pros and their crews. Although we cannot make any promises, our partnerships close association with Team BMC means that we'll likely get a special peek at the team and their crew. If youre a BMC fan, have your cap and pen ready for some autographs just in case.
It's been a long first day, so we plan to leave our bikes in the area and head back to Interlaken by train and the same hotel with dinner included again. (B,L,D --Breakfast,Lunch, Dinner included) [click the map image below to see the ride profile for this day]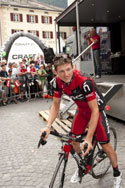 Day 3 - June 11
Highlights: Boat ride across Brienz, Starting line photos, Brunig pass climb, VIP access at Stage Start
Total KM: 67
Total Meters gained: 875
Although we plan to return to Brienz with a panoramic boat cruise, our plans may change based on the Stage 4 start time. This stage begins at Innertkirchen, just a few kilometers down the road from Meiringen. We will make sure to arrive early, as the Tour de Suisse director himself plans on showing us behind the scenes. We'll see the mobile drug-testing unit, the sign-in area and the various hospitality tents used by riders just before the race. Do you want to know what it takes to plan a world-class race ? There will be plenty of time to ask your questions this morning.
Then we watch the riders jockey for position as they take off on Stage 4. We follow the pro peloton out of town on our own bikes and get pumped up by the throngs of cheering fans lining the route!
We then double-back to Meiringen, where we will take a more scenic route up the Brunig pass and follow Swiss National Cycling Route 9 to the awe-inspiring city of Lucerne. Hotel in central Lucerne, Hotel des Alpes***, dinner included. (B,L,D) [click the map image below to see the ride profile for this day]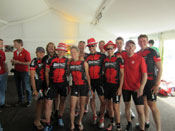 Day 4 - June 12
Highlights: Mountain stage, Swimming party and BBQ
Total KM: 103
Total Meters gained: 1174
You have now seen a stage start and stage finish in VIP style, and so today we are going to be on the side of the road as the riders haul themselves over the hills between Lucerne and Leuggern. We will get an early start, maneuver into position and have our radios on to anticipate their arrival. Once the riders pass, we then take a scenic loop back to Lucerne. You will have seen and done a lot today and so we'll savor those memories on the terrace of a local spa/bath we know that makes for a perfect finish and respite for the muscles! We can a soak, swim, and enjoy some bbq while watching the sun set over Lucerne, back to the same hotel and dinner on your own tonight. (B,L) [click the map image below to see the ride profile for this day]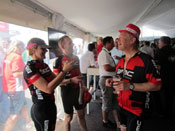 Day 5 - June 13
Highlights: Tour de Suisse finish, Rapperswil
Total KM: approx 94
Total Meters gained: +1002
We will be on beautiful car free bike paths for most of todays riding. Today the ride is an easy 80 km and so we will be in the town of Meilen in plenty of time for the finish and festivities. The Tour de Suisse, being a very intimate race with fewer crowds than other grand tours, you'll have easy access to the team buses, mechanic stations and former Swiss pros who are now Tour de Suisse. Local celebrities such as Beat Zberg ( Swiss National Champion) and Alex Zulle are just a few of the riders you are likely to meet in the VIP tent.
Of course, you are one of the VIPs ! There will be no doubting this, as we will make sure to get some pictures of you on the Tour de Suisse podium this afternoon. Finish at Hotel Jakob in Rapperswil; a very nice 3 star hotel in the center of town. (B,L,D) [click the map image below to see the ride profile for this day]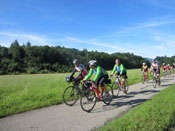 Day 6 - June 14
Highlights: Tour de Suisse Start, Panoramic loop
Total KM: 107
Total Meters gained: 1243
Today is our last day and we will train to Meilen for the start of Stage 7. This will also give you the opportunity to bid farewell to the organizers and have a last look at your favorite riders. The last days of the Tour de Switzerland will be on the eastern side of Switzerland and so we let the pack go at this point. We are free to set our own itinerary today and plan to take you on the most scenic roads of the region while making sure to include at least one mountain pass to finish your vacation in style. Back to same Hotel Jakob tonight. (B,L,D) [click the map image below to see the ride profile for this day]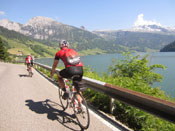 Day 7 - June 15
Departure day.
Today you depart on your own after breakfast. The Tour de Switzerland goes from Zernez to Bad Ragaz. If you are inclined to move ahead to the Tour finish tomorrow in Flumserberg, you may wish to stay in Zurich and travel by train or car, then back. VIP services are not available at the finish of the last stage, but we may be able to arrange some special access for those interested.
Additional cycling from Geneva can be arranged, or guided hikes in Interlaken/Grindelwald area also possible. Please inquire in advance.
What's Included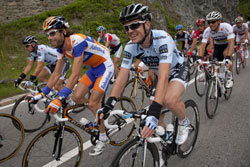 6 nights in 3 and 4 star hotels
All breakfasts, all lunches, 5 dinners
Cell phones, GPS, maps
Professional Swiss guides
Luggage transfers
Van support
Train transfers and bicycle transfers during TdS program
New BMC Racing bike for rent
Exclusive VIP pass and access benefits
** Lunches will be mixed between catered meals and picnics
** Emergency support (no vehicle sag support) - guides ride with our cyclists; and all cyclists must be up to the ride.
** Does not include initial transfer to Interlaken - depending on your arrival destination, we can advise you how to arrive on Day 1.
** As the only official TdS tour operator, Pure Adventures partner Bike Switzerland will be offering exclusive VIP passes to all participants. This will allow access to VIP tents and grandstands at starts and finishes of various stages. Other VIP benefits of this package are outlined in the day-to-day description of our tour program, mentioned in the itinerary.
About your guides: we have several guides who want this role but a determination has not yet been made. What we can say for sure is that your guide is an experienced professional guide familiar with the Tour and with local requirements.
Tour Rates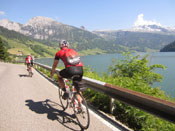 Price Per person based on double occupancy
: 3200 CHF - Swiss Francs
Single supplement
(for a single occupancy room):
contact us
All rooms are double occupancy twin rooms. Space for single persons in a double occupancy room requires a substantial supplement.
BMC road bike rentals are available and included, please see the Bike Rental tab for all details about the bikes we offer.
Additional stays, rides, and onward travel all possible with advance planning.
(3200 CHF is about $3480USD)
(convert from euros)
Bike Info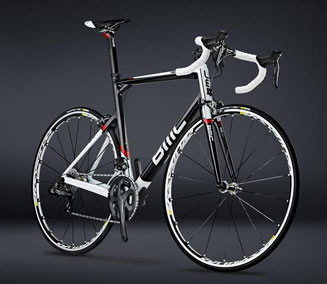 Bike rentals are available for all participants and included in the tour price. Note, we only offer BMC road bikes, see details below. You are free to bring your own bike but you must bring all necesary tools and materials. Bike boxes for those bringing their own bikes will need to be stored which may require a supplement. There is no discount on the tour for bringing your own bike.
Weighing in at 8.6 kilos, the BMC Street Racer is the machine for long and hard road cycling. The Street Racer has a triple-butted alloy frame, carbon fork and standard 700c road wheels and tires. There are two different models in our fleet and they correspond to the following sizes: SR01 Shimano 105 / Triple chain ring:
Note: sizes XS-XL available, first come-first served.
Sizes XS, S (48 and 51) Streetracer, 105, triple
Sizes M, L (54 and 57) Streetracer, Ultegra, compact
Size XL (61) Gran Fondo, 105, Compact
Photos & Videos
Get the flash player here: http://www.adobe.com/flashplayer