July 2, 2020: Pure Adventures is following health and safety guidelines specifically created for the adventure tourism industry, provided by the Adventure Travel Trade Association and created in collaboration with Cleveland Clinic.  More information is available from the ATTA.

Due to recent changes impacting the travel industry, we would like to address some new guidelines (below) for our customers in regard to bike tours, trekking/hiking tours, and general travel suggestions.
The tour business has historically been the domain of group guided tours; self guided tours really only took off in the last 10-15 years. Still, most of the tour options available to consumers are the guided groups where individuals or couples sign up for a fixed departure and set off with a group of 'new friends' and a guide. This model has a lot of new work to do to manage virus safety. New guidelines issued by the ATTA were developed with the help of some of the biggest and best financed adventure operators. They are well done, but are most relevant to guided group trips.
That being said, most of that is not applicable to our model of self guided and private guided bike tours. Pure Adventures, in combination with our local partners, are working to do our part and select the best vendors who are also doing their part to make the safest, best experience for our travelers as they return to exploring the world. Our hotel partners are following their specific guidelines, as restaurants are theirs. Our taxi transfer providers and drivers also have their own 'industry guidelines,' including the number of people per vehicle and protective glass between the front/rear cab area. Here are some other initiatives we are putting in place:
1. Orientations and Equipment Fittings: These will be done in a socially distanced way, with all parties wearing face masks (including guests). Helmets, bike bags, and bikes are cleaned and disinfected between uses. You may wish to bring your own helmet and bike bag for more assurance, but note that we always require a helmet to be worn while riding.  More telephone and/or zoom orientations will be available.
2. Luggage Transfers: Drivers will use hand sanitizer before and after handling customer luggage.
3. More Electronic Data: More and more, navigation is moving to an electronic format, along with cue sheets and suggestions for visiting, exploring, etc. Less paper is good in every way.
4.  Travel with a Face Mask: We require travelers to have them on your person at all times but not while riding/hiking/paddling unless you choose to do so.
5.  Communication Support: In case you start to feel sick during your trip you will have local support. This includes advising about contact tracing apps that may be required in the area you are traveling.
6. Off the Beaten Path: We are choosing less busy routes, trails, villages, whenever possible.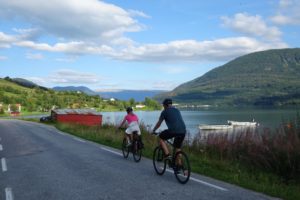 We recommend the following to all travelers:
Carry your own hand sanitizer and use it frequently.
Stay home if you or anyone in your family experiences symptoms of illness.
Get Travel Insurance and budget for the "Cancel for Any Reason" option
Always practice social distancing and always, be respectful of locals.
Get accustomed to using your smart phone in advance, as well as the applications we send to you.
Plan to distance when crossing strangers on the trail/path.
Bring your own gear – as best you can within luggage limits.
Get in touch if you start to feel ill at any point during your trip and self isolate; our local support team will advise actions. Note that local contact tracing and testing in each destination may have special requirements.