See our packing list for a suggestion of what to bring in terms of cycling clothing. (this is sent to every customer who books a trip at 60 days prior to travel). However, we do recommend cycling clothing on all bike trips, but many of our customers choose to do it their way – with our without cycling clothing. It is entirely up to you! Europe Packing List for Cycling | USA Packing List for Cycling | Hiking Tour Packing | Grand Canyon & Canyons Pack List |

Bikes: we offer bike rental on every tour. You never have to bring your bike from home, but some people choose to bring their own bikes. We wouldn't recommend to anyone that they bring their own bike except for challenging long distance cycling tours where many hours per day in the saddle may be best on a personalized bike that was fit professionally.
Our bikes available for rent on every trip are always hybrids. Our hybrids vary from country to country but are always good quality bikes that are much better than you would find in a local rental shop. We go to great lengths to maintain the bikes which includes revisions after every use and replacing parts and materials when they become worn. Brands like Scott, Trek, Orbea, Cannondale are common. We use aluminum, scandium, and carbon materials and good quality groupos. The hybrid bike is a heavier bike, but it is sturdy with upright steering and all terrain tires and wheels. You can comfortably ride on pavement, dirt, gravel, and in the rain if necessary.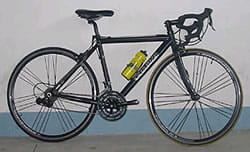 Check the bike details for each country, but in general we always add on to each hybrid: water bottles, tire repair kits with pump, tire levers, patch kit, spare tube; as well as computer, handle bar bag or rear pannier. Most bikes have 2 bottle cages, but not all – see each tour.
Road bikes are an option as well. Some tours are designated as 'road' or 'hybrid' only, and some offer either bike: Aluminum, Carbon and Scandium road bikes are available. See each tour for details.
About Pedals: standard issue are flat pedals; but anyone can request at the time of booking to have toe clips installed. This makes using an all around shoe possible and still gives good pedaling performance. If you want to bring your own clipless pedals and shoes, no problem, we can accommodate.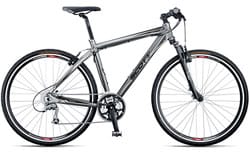 Tandems: sometimes available, but not always. Please check with us in advance for your desired destination. We only recommend tandem rentals for experienced tandem riders.
Carrying your day gear: hybrids offer the most flexibilty. These bikes have rear racks for panniers, or handlebar bags, and also room for a saddle bag. Roady bikes typically have only a saddle bag and sometimes a handlebar bag. The road bikes do not carry rear rack or panniers.
Bike Preparation: Bikes must be thoroughly checked over between every rental. Our local offices take care to ensure that before you get your nice new set of wheels it has been cleaned, checked, and repaired if necessary. Brakes, tires, tubes, chains, derailleurs, and the frame itself are all checked. New supplies are loaded, and bags emptied and cleaned. Helmets are cleaned and prepared. We know better than anyone that when you go out on a self guided trip you need to have a reliable machine; it is an investment on our part to make sure you don't need to call us for a mechanical problem if it can be avoided with advance prep. Every bike is reviewed by a mechanic before it goes out!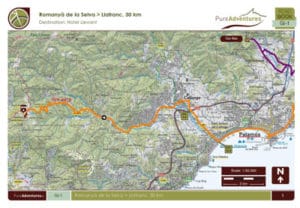 Maps, navigation: Every tour includes very detailed routes which are made up of cue sheets and maps plus we include information on sites to visits, places to eat, suggestions for local dishes, open hours, and much more. This roadbook varies from country to country in presentation format but the information is always the same. You have excessive information to help you guide yourself along the riding route, but we try not to overwhelm you with info in order to keep your up and enjoying the countryside! Navigating is not that hard, but will slow down your overall cycling progress. So plan a little extra time to stop and consult your materials as you go along each day.
Sizing your bike: you simply need to tell us at the time of booking how tall you are and we can size from there. If you know inseam, your own bike frame size, and any special needs you may have, do let us know at the time of booking so we can better prepare the bike before your arrival. At orientation, the bike will be adjusted to get you the most comfortable ride possible.
Chiid Equipment: we do have small size bikes and other child/family friendly gear like trailers, child seats, and in some locations a trail a bike.
Gear: what other gear could you bring on your trip? Again, we will give you a packing list, but some things you may want to bring include:
your own helmet (we include helmets with bike rentals)
cycling gloves
cycling shoes that match your pedals – we will switch out pedals if you want to bring your own
sunglasses
GPS – we do include a unit with some tours, but better now is that we can send GPX files for you to upload to your device and bring with you.
heart rate monitor
nutrition and energy supplements
Cold weather cycling gear? Depends the season, and where you are riding, but you may want to bring jackets, arm warmers, knee warmers, and so forth. Always ask us if you are unsure what to bring. We do also want to remind you that you can buy many things you may forget.