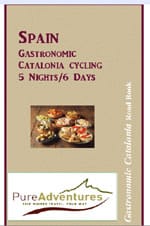 A self guided cycling tour or self guided hiking tour require more logistics than a group guided tour! Its true, but we are experts at this and we do it with superior service and more support than a typical self guided trip usually found by going direct to a local outfitter!
We want you to be prepared; we spend a lot of time making documents, and gathering information, as well as staying up on important matters like Travel Insurance, Train schedules, mobile phone services, etc to ensure we are making everything easy for you!
To help you prepare to go on your tour, part of our services that are included is documentation that we send to you by email about 60 days in advance of your travel. We include a comprehensive set of materials that will tell you:
* All your hotels – a nice list with contact info that you can leave with friends and family in case they need to contact you
* A packing list – suggestions for what to bring in general plus what to bring specifically for the activities on your trip
* Regional information – specific info about your tour including sites, places to eat, and specialities of the region. What are some good wines, some good food specialties, some unique products that may be made in the region.
* Vouchers – not all tours require them, but some do and we send them in advance. Vouchers would be for your hotels, meals, taxis, and other services included in your trip.
* Arrival information – where you need to be on the first day, and how to get there. This will also mention your orientation time on the first day.
* Local contact: our local office in each country/region and the name of your contact person.
* Transportation – how to get around, nearby airports, train info, common road signs, and much more.  * Bike information – what to expect from your rental bike, and reminders of how to fix a flat (which you must know how to do) as well as suggestions if you are bringing your own bike and things to think about when handling your own bike.
* General travel information: to help keep you informed, we give you additional information like local customs, money information, local customs concerning tipping, typical business hours, government contacts, post offices, telephone info, useful phrases to help you in the local language, and much more.
TRAVEL INFORMATION BY COUNTRY:
Throughout this site you can even find some important local country information, below are some links:
France Travel Information
Italy Travel Information
Spain Travel Information
Ireland Travel Information
Croatia Travel Information
Belgium Travel Information
Portugal Travel Information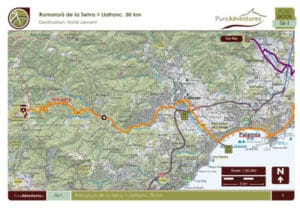 ROAD BOOKS, MAPS, NAVIGATION:  These key documents are presented to you at orientation.
In each country, and each tour, we have a unique set of navigation tools for you to use.   These tools consist of a combination of maps, cue sheets, and possibly a GPS.  We don't have GPS on every trip yet, but we do have GPX files that work on your GPS device for any trip – just ask in advance. We are in the process of converting more and more to GPS which should reduce the volume of paper needed in cue sheets.  Be sure to check your trip's detailed description to know about the navigation tools offered. If you prefer to use your own GPS device, ask us well in advance of departure for the GPX files. More information about roadbooks:   these detailed documents include turn by turn information so you can navigate on your own each day.  We include important route info as well as site information and recommendations for stopping to eat, stopping to visit, and important visits along the route. BIKES:  see the detailed bike specs on each trip; this information is found under the Bikes & Gear tab within each tour detail page.
OTHER Essentials: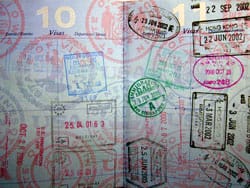 Passports/Visas: Valid passport are required
for everyone. Passports must be valid 3 months beyond length of stay. Note: it is advised that passengers hold return or onward tickets and proof of financial means, although this is not an absolute requirement. Our suggestion: Keep your passport in a safe place as much as possible and just keep a photocopy with you. Visas Required by all except nationals who do not require a visa to visit a country, which is a signatory to the Schengen Agreement: includes USA, Canada, Australia, all EU countries, among many others, check with your country regulations.
Currency Exchange and Foreign Exchange. Your tour is priced in Euros and we convert to $US which is the currency you will pay for Pure Adventures trips. Clients can also pay directly in Euros by bank wire transfer. We recommend that you stay abreast of posted currency exchange rates prior to travel so that you are familiar with what is a good rate when converting locally within Europe. Be prepared, the 'interbank' rates quoted on the internet are banking rates. No broker or exchange service will transact with you at those rates, but something slightly higher or lower if they are buying or selling. Exchange rates move quickly from one day to the next. We recommend using credit cards to pay for much of your purchases in Europe, but that depends on any fees you may pay your card bank.
Credit Cards
Visa and Master Cards are accepted everywhere, and Amex many places. Note that V & MC are adding 1% to most foreign purchases now. Using your credit card used to be that the best way to get Euros when you arrive in Europe because of the good exchange rate. But, because of new fees, you should check with your credit card company before departure to know what rates and fees might be applicable. This is still the most convenient way to go.
Travelers Checks
Traveler's Checks need to be exchanged at banks for better rates than change bureaus on the street, but exchange bureaus are open much longer. Traveler Checks cost you a little bit of money when you order them, but they are safe: if they are stolen or lost, you don't "lose" the money they represent. Ask your bank about their advantages.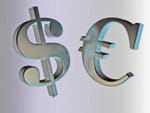 Currency exchange
In any Currency Exchange Bureau and some firstclass hotels you can exchange foreign currency.
The "rate of the day" is written on the doors of exchange currency bureaus and banks, but rates are
not favorable.
Shops and most hotels are prohibited from accepting foreign currency by law.
Travel Insurance: This is not obligatory, but we strongly recommend this option; to have more details; visit the website. The main reason people take this is for protection against their need to cancel such as if a family member becomes ill, or an injury is sustained prior to travel. This is also a good option for auto rental insurance, much cheaper than with the car rental company.
You can get a free quote and purchase insurance at the following link:  Travel Guard (US & Canada residents only). Our number one choice, and the number one choice in Travel Insurance is Travel Guard – coverage is wider, terms more flexible, and claim payment history rated high. Ask your Pure Adventures consultant to help you with a quote as well; we can have them sent to you.


For Australian clients, click here; and if you're a resident of New Zealand click here.
MOBILE PHONES: USE MY OWN, or get a SIM card, or Phone Rental? – In case you want to plan to use your own mobile phone for calls, or for GPS applications, or other smart phone apps/uses; we strongly recommend that you plan ahead because you may not be able to use your phone as easily or cheaply as at home.   Costs will depend on your phone contract and provider, but data use while roaming can be extremely costly for most users.   You may want to plan to buy a European SIM card to use in your phone.  Telestial Phone, SIM Card, Calling Card options for travelers to Europe
We cover all these subjects and much more in the materials we send to you at the time of confirmation, then again at final payment you get the complete documents except the final road book. You will get your roadbook at orientation.
Customer Comments
"What an amazing time we had in Austria/Czech   cycling….really we had a fantastic time….not a drop of rain.Many thanks again for helping us organize this. I'm already looking forward to next year when we plan to do another ride…maybe Croatia!
"
–
Nancy and Joe