Training in Spain
Why the Pros Train in Spain – The 3 C's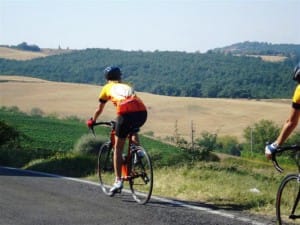 If you ask any cycling enthusiast where the best place to train is, the overwhelming response is likely to be Spain.  Sure, there are certainly plenty of other places that offer good opportunity to train, yet even with so many other choices, Spain still remains at the top – particularly for professionals.  Here are just a few of the many reasons why the pros prefer to train in Spain – known affectionately as "the 3 C's".
Climate
The country of Spain features a fabulous range of three main climates, each ideal for cycling in its own way.  Some of the country falls within the Mediterranean climate, which is characterized by warm, dry summer weather.  The north quarter of the country features oceanic climate, which is known for its warm summers and cool winters.  Finally, the country's southeaster quarter is semiarid and quite dry.  Depending on preference and what race is being trained for, cyclists have the pick of which climate best suits them, all of which are quite pleasant and comfortable for riding and training year round.
Culture
Even when training, there's still plenty of time to get off the bike and enjoy the sights a bit.  Spain is one of the most beautiful countries in the world to visit.  It features exquisite old architecture, a plethora of artwork (ever hear of a guy named Picasso?) and some of the most mouthwatering food on earth.  With such a long, rich history, Spain offers cultural discovery that is both fascinating and unforgettable.  When you're not riding, you have the option to explore, learn, shop and dine to your heart's content.  You certainly won't be bored!
Climbing
With the natural border of France and Spain being the magnificent Pyrenees mountain range, it's no surprise that climbing would make the list. The high altitude and varying terrain provide the perfect setting to prepare for more difficult races and the breathtaking sights along the way, from lush plant life to fauna and panoramic views make it as enjoyable as it is challenging.  In fact, the mountain range is the setting of several stages of professional cycling races, including the infamous Tour de France.
If the climate, culture and supreme climbing opportunity aren't enough to convince you that Spain is the ideal place to train, perhaps the fact that so many well-known cyclists have named it so will. Tyler Hamilton, George Hincapie, and Lance Armstrong have all spent months at a time training in various areas throughout the country, particularly Girona.  Additionally, Johaan Bruyneel, winner of a remarkable 13 Grand Tours, has been quoted as saying that Spain is "the best winter training base in Europe".  These gentlemen know a thing or two about training.
For more than six decades cycling has been an incredibly important sport in the country of Spain. It is home to such world-renowned racing tournaments as the Vuelta a España, the Tour de France and the Giro d'Italia.  In addition to this, Spain's superb climate, rich culture, and fantastic terrain and climbing opportunities make it the ideal place to train, for both professionals and novices alike.