From sweet to savory: 4 risotto recipes that can't be beat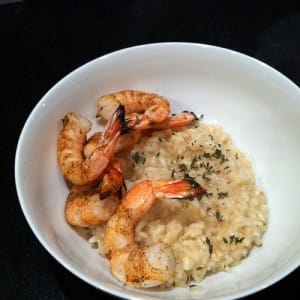 Risotto is a classic Italian dish of rice cooked in broth until it has reached a rich and creamy consistency. We are huge fans of risotto and listed it as one of the 5 Foods to Try in Italy (and with Italian cooking as varied as it is delicious, you know we are serious about risotto).
What you may not know about risotto is that it can be cooked in a variety of different broths and can contain seafood, vegetables or meat. And while risotto is traditionally a first course dish, we think that these recipes are so delicious that you won't have room for the main course or dessert (unless it's the dessert risotto you make a meal of!)
David Rocco's Risotto with Shrimp and Zucchini
Cream and white wine serve as the base for this traditional Italian risotto. Even if you're not able to include fresh-from-the-Mediterranean shrimp in this dish, we think if you dine al fresco and close your eyes for a moment, you can almost imagine yourself relaxing in Sardinia.
Gourmet Mushroom Risotto
Meaty portobello mushrooms and pungent Parmesan cheese are the key ingredients in this 5 star recipe risotto from Allrecipes. Sea salt and dry white wine add depth to this already decadent risotto recipe. We dare you to save room for tiramisu!
Jamie Oliver's Sweet Vanilla Risotto
Risotto purists could accuse celebrity chef Jamie Oliver of tinkering with perfect by taking Arborio rice and combining it with vanilla and peaches. But this clever combination of syrupy sweet poached peaches, white chocolate, dark chocolate and mint will turn your opinion of risotto as a meal on it's head.
Risotto with red wine, chorizo and peas
The majority of risotto recipes call for white wine, but we think Chef Rachel Allen's unique take on classic Italian risotto is bellissimo. Red wine and smoky Spanish chorizo come together in this unusual but dinner party worthy dish.
What is your favorite risotto recipe?