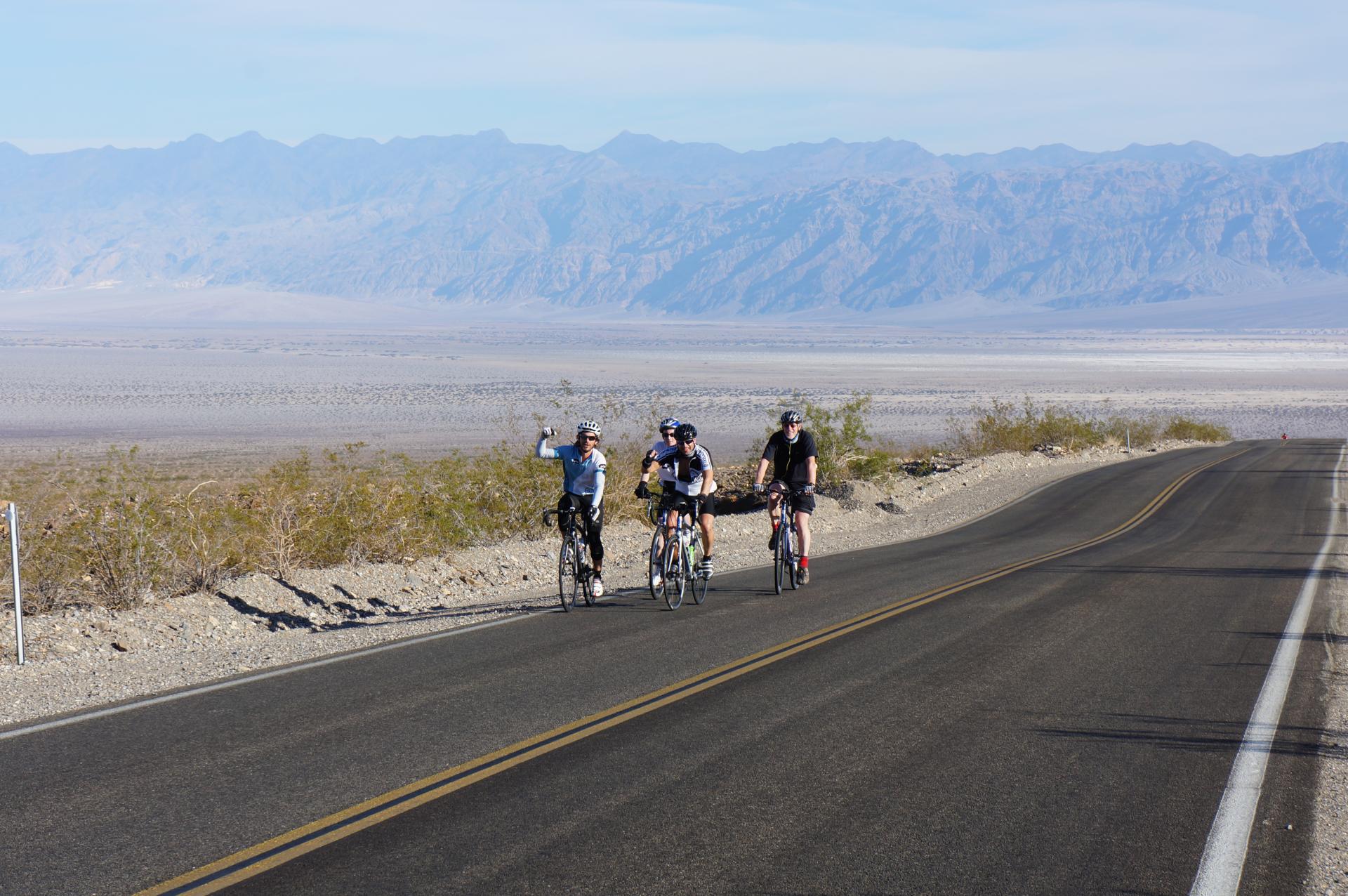 Death Valley to Las Vegas Bike Tour
from US$2,345
Death Valley's wide byways travel far above and even below sea level, delving into the heart of the American West's extraordinary Basin and Range country. Wildlife and wildflowers animate the spaces between salt spires and sand dunes and when the searing desert sun drips below the jagged horizon, the night ... Read More
Reviews

Difficulty

Tour Type

Supported Road Cycling Level 4

Availability

Fixed departures Nov-March

Duration

Distance

40 miles per day; shorter options available
The tour package inclusions and exclusions at a glance.
- (1) Professional, knowledgeable and Wilderness First Responder certified guides (second guide added at 5 pax)
- (1) AOA 15-passenger vans at all pax tiers (trailer added at 5 pax)
- (1) Nights lodging Stagecoach Hotel & Casino (double occupancy)
- (1) Nights lodging Stovepipe Wells (double occupancy)
- (1) Nights lodging Panamint Springs Resort (double occupancy)
- (2) Nights lodging Oasis at Death Valley (double occupancy)
- Park Permits and Entry Fees
- Meals & Snacks (Dinner Day 1 – Lunch Day 6)
- Bottled water & assorted drinks during vehicle transfers
Lodging
Accommodations: best lodging in each location. All lodging includes private bath and a variety of other amenities. Hotels include:
- Stagecoach Hotel and Casino **
- Stovepipe Wells **
- Panamint Springs Resort **
- Furnace Creek Ranch ***

- Hyatt Place Hotel (Las Vegas hotel not included in tour price, but one we recommend)

** Please see Itinerary tab for more information **

Rates - a Guideline*
Death Valley to Las Vegas Bike Tour

Double occupancy with a minimum of 4 participants*:

US$2395/person - subject to availability on dates requested



Single Supplement:

from $400 subject to space available



Custom Groups - contact us:

we can operate modified tours and larger group tours - ask us for rates



Bike Rental:

A variety of models are available - see the Bikes and Gear tab

* Rates are estimated based on past lodging rates; each departure will be quoted uniquely according space available on the dates requested. Note that Death Valley lodging can sell out early. Camping is also an option for small groups - we can support camping tours with all gear and materials.
How do our rates compare?
See
Why Pure Adventures is Better
We include more services, respond quicker, and are there for your entire trip not just part of it. As a US based company, you can pay conveniently and securely. Call us toll free now 800-960-2221 (USA/Canada 8am-5pm MST); or
eMail Us
we respond same day to all emails. Our goal is to be better, respond quicker, and save you both time and money. We may not always be the least expensive, but we will be the best value for the money and time. Don't forget, we offer many destinations and will help you choose the best one for you. Let us help you and make your vacation easy!
Tour Details
Tour Highlights:
- Guided tour - 2 guides included
- Spectacular scenery; unique on Earth; lowest point in the USA
- quiet, wide open roads with hills, well paved
Need to Know:
- lots of climbing on this trip; come prepared
- overnight temps drop dramatically, while daytime temps can get very warm
-
Specific Booking Terms apply to this tour
November - March Any Date - On Request
: For groups of 4 or more. Best season is January through March. Temperatures during these months average in the 70's F (21 C) during the day and upper 40's F (9 C) during the night. Please contact us with questions about joining a group or departure date:
Our Contact.
Level 4
- The Death Valley area is a mountainous region and famously drops below sea level. Rides vary from as low as 31 miles up to 55 miles. Longer rides however are the norm and the region is hilly, a good amount of climbing is required. This tour is for experienced cyclists with good fitness. We recommend road bikes for all participants.
Options
Ride options - longer/shorter on some days
Las Vegas add ons
Custom tours for groups
START: 1:00pm on Day 1. Meet your guide in the lobby of the Hyatt Place in Las Vegas.
END: Drop-off at Hyatt Place in Las Vegas on Day 6 between 2:00 and 4:00pm.
GUESTS: 4 min to 12 max
Best Time To Go:
March - May, September - November.
Average temperatures:
January: 57 °F (14 °C) 34 °F (1 °C)
February: 63 °F (17 °C) 39 °F (4 °C)
March: 70 °F (21 °C) 45 °F (7 °C)
April: 79 °F (26 °C) 52 °F (11 °C)
May: 88 °F (31 °C) 61 °F (16 °C)
June: 100 °F (38 °C) 70 °F (21 °C)
July: 106 °F (23 °C) 73 °F (20 °C)
August: 102 °F (23 °C) 73 °F (19 °C)
Sept: 95 °F (35 °C) 66 °F (19 °C)
October: 82 °F (28 °C) 54 °F (12 °C)
November: 66 °F (19 °C) 43 °F (6 °C)
December: 57 °F (14 °C) 34 °F (1 °C)  
Local Coordinator
This revised itinerary for 2018 is now only available on a guided basis. Pure Adventures and AOA Adventures have integrated to build the best cycling tours in the western USA. Our team forms the most experienced and knowledgeable cycling tour outfitter in the southwestern USA. Our rental fleet is the largest and highest quality and all of our guides are experienced WFR certified. We have 4+ mechanics on staff and carry the most respected brands. Come experience the southwest with the local experts!  
Reviews
Bike rental options for this tour:
Specialized Allez Elite with Tiagra - $225US plus tax for the duration of the tour.
Other road bike options:
Specialized Roubaix Sport with Shimano 105 - $285US plus tax for the duration of the tour.
Trek Emonda SL6 with Ultegra - $390US plus tax for the duration of the tour.
Specialized Tarmac SL4 w Pro Disk Ultegra Di2 - $585US plus tax for the duration of the tour.
When you rent:
Upon meeting your guide at the start of the trip your bike will be ready to ride including a spare tube, CO2 cartridge, CO2 inflator, tire lever, and multi-tool. You will only be responsible for bringing your pedals, shoes, and any other personal cycling equipment (GPS computer, saddle, etc.). Helmets are required on our trips, and you are welcome to bring your own, however, we can provide one for you upon request if needed.
You may also send us your stack and reach measurements for the bike to be set up by our professional mechanics. Stack and reach? Huh? No need to worry! If you do not know your measurements we'll spend some time before our first ride getting your bike dialed in to ensure it's comfortable and properly fitted to you.
Would you like to bring your own bike? You are welcome to do so; and if you wanted to ship it ahead of time or need help building up your bike, we do offer a service to assist you with you own bike and we do have some policies around what we can accommodate. For example, we do not permit tandem bicycles, recumbents, aero bars, TT/triathlon bikes, or unicycles on our trips.
To see our complete policy and shipping/travel tips
Bike Guide to Bringing your Own bike
or you can also
Contact us by email.
Navigation:
Throughout your cycling trip there may be periods of time where you or a small group will be short distances from other guests or guides. To ensure you follow the correct route, we will provide a mobile app that can be downloaded onto your smartphone with the routes pre-loaded for you to follow. Your guide will also have hard copies of maps and cue sheets to pass out if needed. We do not provide any GPS devices or mounting hardware. If you would like to mount your phone to your bike we recommend checking out the Quad Lock mounting system, or you can keep it in your jersey pocket.  
Request your Tour Summary for this tour and also get the free Destination Guide by email.
The Tour Summary is a PDF document you can share with your friends and puts all the key info shown in different tabs here into 1 short compiled document. Our Destination guide will give you general travel info about this country; best time to travel, interesting sites, airports, weather, and more.