2013 - a new year for Pure Adventures and it is the first year that Pure Adventures stands on its own, apart from Discover France Adventures (founded in 1994 by Loren Siekman) from where Pure Adventures Tours were created back in 2004! Pure Adventures emerged in 2004 in order to meet the demand by customers wanting to go back to Europe and experience similar high quality self guided tours but in other destinations than France. In 2012, Pure Adventures separated completely from Discover France and now operates independently. The company was founded and is currently operated by the same founder of Discover France Adventures, Loren Siekman and his USA and Europe based team. [more about self guided ]
The name indicates something unique. It is our mission to provide exceptional self-guided cycling & hiking services that allow our clients to experience their destination in their own unique way. Summary about Pure Adventures in PDF.

Pure Adventures has been a pioneer in popularizing the self-guided cycle touring travel concept for North Americans. Since 2004, Pure Adventures has expanded and grown its offers by focusing on the 'local experience' which is at the essence of its "Pure" name. Pure Adventures only uses the expertise of locals for guides, route development, sites to see, people to meet, where to eat, shop and experience life as a local would. The self guided concept is our expertise and is the 2nd Pure element for the client - it puts the traveler in control and in contact with the destination much more than if a professional guide is handling everything. What we do is catching on! Many of the elements that Pure Adventures includes in its unique self guided formula are now appearing in the offers of more and more tour operators. Since the economic crisis, travelers have found this to be a great way to spend less and have an awesome (and in many ways - more authentic) travel experience.

While the majority of our tours are self-guided, all the behind the scenes logistics and planning has been done by experts in both travel planning and cycling. A good portion of our business is custom guided tours and in every case, only local and professionally certified guides are used to give our travelers the most authentic and local experience possible. We take great pains to identify and qualify our guides. Many have been associated with our company from the start.
The level of difficulty varies. Most of the tours listed in this site are vacation experiences wrapped in culture, heritage, sites, and unique experiences that come with this kind of travel. However, we do custom build more challenging tours for groups seeking to have more challenge on the bike daily - whether in the big mountains or along the coasts. We partner at pro cycling events too; see our Tour de Suisse offer for 2013!
These facts coupled with our tour format helps keep costs down - leaving you more to do in a vacation! Our self-guided tours offer great amounts of freedom to choose a date, customize the itinerary, modify hotels, and cycle/walk as much as you want.
If you want to know more about the self-guided tour concept click here. | Or Read This Blog which appeared in the Huffington Post
Contact us in a variety of ways, but know we are always available by phone! Our customer service is VERY important to us; and we want to have you come back again and again! Thanks to all who have traveled with my brands over the years - you are the reason we love what we do!
- Loren Siekman, founder.
Our Story...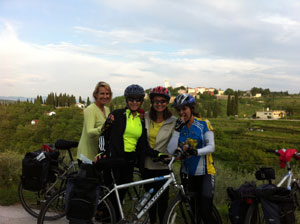 After 10 years of specializing in France (since 1994), in 2004 we advanced our model for active vacations and took it and applied it in many new destinations. At the time, we needed to find similar experts as to what we were in France to help us develop the tours we did. The whole reason for growing was obvious, people love France but don't want to visit every year. Travelers came to trust us, and wanted that same experience elsewhere. So, we had to find locals in each destination that could adapt to what we needed and work for us in our own unique way. Slowly, we have built a strong network in every destination we sell, and sales continue to grow.
Our core team in the USA consists of Loren Siekman, Magali Badio, and Ryan Cullinan who helped to shape the previous brand names as well. Our Europe staff consists of Bo Lohmann in Spain and a variety of others in all the other destinations who work for us part time and for each trip we operate in each locale. Since growth has been tremendous, even during the recent crisis years, we intend to continue to add destinations, and local personnel.
Deciding to sell self guided trips was relatively easy; it fits perfectly with the kind of travelers we ourselves are - independent but too busy to have to handle everything ourselves. We were quite lonely in the beginning, but since many companies have started this type of tour. Many of them may even look similar, and sometimes they are! A trip along the Danube for example is offered by dozens of companies - its easy to find the route. What is different is support, equipment, lodging, and pre-travel assistance, on tour assistance, and post travel. By virtue of the flexibility offered in self guided trips, this inevitably has led to doing custom group requests. Lots of groups of all sizes want to do our program but in their own group with some changes. We do this all the time; and we add guides to keep some independence for group leaders and let a pro look after all the group and all the logistics of a group!
In 2013 and 2014 we are expanding outside of Europe. We will be announcing more cycling tours, hiking tours, treking tours, and lots of new destinations. All repeat travelers with us benefit with a discount every year - we reward loyalty!
Our story takes a new turn this year, and we start an exciting road on which we are totally committed. We welcome every opportunity to make a great vacation experience for you!
What We Do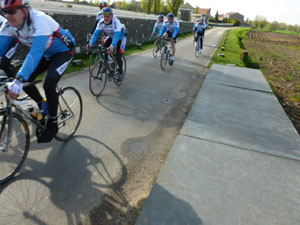 We are focused on bicycle tours, hiking tours, treking tours, and multi sport tours that offer hiking, cycling, and other experiences like canoeing or zip lines, and other fun and accessible adventures without extreme risk of personal injury. Moreover, the concept of self guided travel is our main specialty that we take a fair amount of credit for helping to develop awareness outside of Europe. We have developed a very good knowledge of what our customer is looking for and are able to advise any interested person on what is the best option for them.

In Europe in 2012 we sold a combined 3 million dollars in bicycle and custom tours. That on an average tour cost of less than half the average group guided tour! Our total growth in 2012 has been more than 18% over 2011, and our cycling product has grown more than 22% last year. We have a client base of more than 15,000 travelers, many of whom have come back to to explore new regions/countries each year. Pure Adventures sales expect growth to continue unabated as more people discover self guided touring.
We practice the activities we sell, and so are aware of what it takes from a personal level as well as a professional level. To our clients who have travelled with us over the years and asked for new destinations, this will surely become more widely known!
All repeat travelers are eligible for a small discount, and we often have incentives that we promote, and if you are on our enewsletter list, you will hear about it.
See why Pure Adventures is unique! | Pure Adventures Adopts the ATTA VALUES and pledges support!

Self Guided - A complete package of services that always includes: lodging, some meals, luggage transfer, routes, maps, cue sheets, emergency support. We almost always also include arrival orientations, and dinners. Sometimes we also include airport/train station transfers, all meals, and other services. Each trip may be slightly different because of local services (or lack of) in putting on a tour. Bottom line: we arrange just about everything, you only have to show up and enjoy! We let you travel any date you want, and don't require minimum travelers, nor do we make you adhere to a travel pace. You travel on your own, but you are never totally alone. Our local representatives support you throughout: providing orientations, moving luggage, and always available by phone in case of emergency. See a comparison of self guided travel.
Guided Travel - Go to new places with the greatest of ease! Some places just require more support and some people prefer the small group experience. We bring a number of guided programs as well to meet these needs. One thing that always makes a difference is the quality of the guide - and we seek the best! Local professionals always, dedicated to their trade and not students on summer break. We include all the necessities so you can focus on the activity and prepare properly ensuring the best tour experience. Because we use small groups, you will still interact with the local culture, and with the help of your local guide, get a few extras that only locals know about!
Note that some of our guided trips go with as few as 2 persons and so you have almost no chance of cancellation due to lack of participation that you might get elsewhere!
At Pure Adventures, we are full time, year round working on our tours and their perfection for our clients. We have been at this since 1994. Our knowledge, experience, and professional commitment set us apart. We also try to emphasize our accessibility - by email, phone, and web. We will respond, and a real person will help you! We are there to help with detailed questions, and to help with your overall trip plans outside of a tour you are planning with us. In the future, we intend to remain on the cutting edge and develop our accessibility, routes, and services to make them even better for our customers.
Meet the Team
Media & Press Releases
Pure Adventures works with Widness and Wiggins for all media related matters. See our page on their site at this link.
Press Release April 25, 2013 Self-Guided Cycling Tours Of Englands Lake District / Scottish Highlands At Rates Hovering Around $1,000 per Person for 8 Days
Press Release April 3, 2013 Dropping in on Local Festivals Easy to Schedule on Pure Adventures Self-Guided Bicycle Tours in Europe and the UK
Press Release March 12, 2013 Five Surprises with Average 50 Percent Savings Come with Self-Guided Bicycle Vacations To Over a Dozen UK / European Destinations
Press Release February 19, 2013 -Three Cooking Classes Introduce Cuisine and Culture of Spain's Catalan Region On 8-Day Self-Guided Biking Tour
Press Release: February 4, 2013 - Pure Adventures Adds Switzerland To Cycling Vacation LineupWith Guided Tour de Suisse and Self-Guided Programs
Press Release: January 14, 2013 - Self Guided Cycling on Croatia Istrian Peninsula, Guided Multisport Adventuring in the Dalmatians Available Through Pure Adventures