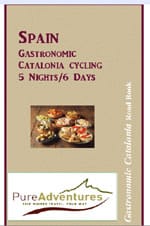 A self guided cycling tour or self guided hiking tour require more logistics than a group guided tour! Its true, but we are experts at this and we do it with superior service and more support than a typical self guided trip usually found by going direct to a local outfitter!
We want you to be prepared; we spend a lot of time making documents, and gathering information, as well as staying up on important matters like Travel Insurance, Train schedules, mobile phone services, etc to ensure we are making everything easy for you!
To help you prepare to go on your tour, part of our services that are included is documentation that we send to you by email about 60 days in advance of your travel. We include a comprehensive set of materials that will tell you:
* All your hotels – a nice list with contact info that you can leave with friends and family in case they need to contact you
* A packing list – suggestions for what to bring in general plus what to bring specifically for the activities on your trip
* Regional information – specific info about your tour including sites, places to eat, and specialities of the region. What are some good wines, some good food specialties, some unique products that may be made in the region.
* Vouchers – not all tours require them, but some do and we send them in advance. Vouchers would be for your hotels, meals, taxis, and other services included in your trip.
* Arrival information – where you need to be on the first day, and how to get there. This will also mention your orientation time on the first day.
* Local contact: our local office in each country/region and the name of your contact person.
* Transportation – how to get around, nearby airports, train info, common road signs, and much more.  * Bike information – what to expect from your rental bike, and reminders of how to fix a flat (which you must know how to do) as well as suggestions if you are bringing your own bike and things to think about when handling your own bike.
* General travel information: to help keep you informed, we give you additional information like local customs, money information, local customs concerning tipping, typical business hours, government contacts, post offices, telephone info, useful phrases to help you in the local language, and much more.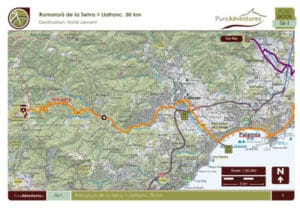 ROAD BOOKS, MAPS, NAVIGATION:  These key documents are presented to you at orientation. In each country, and each tour, we have a unique set of navigation tools for you to use.   These tools consist of a combination of maps, cue sheets, and possibly a GPS.  We don't have GPS on every trip yet, but we do have GPX files that work on your GPS device for any trip – just ask in advance.   We are in the process of converting more and more to GPS which should reduce the volume of paper needed in cue sheets.  Be sure to check your trip's detailed description to know about the navigation tools offered.  If you prefer to use your own GPS device, ask us well in advance of departure for the GPX files.  More information about roadbooks:   these detailed documents include turn by turn information so you can navigate on your own each day.  We include important route info as well as site information and recommendations for stopping to eat, stopping to visit, and important visits along the route.
BIKES:  see the detailed bike specs on each trip; this information is found under the Bikes & Gear tab within each tour detail page.
Info by country listed below: