5 palate pleasers in Puglia
Puglia (Apulia), you may have heard of it, but where is it? This region of Italy is found in the 'boot heel' area of Italy and on your self-guided tour of this region you will more or less follow the coast from the inland town of Conversano and go to Otranto. The routes along the rolling hills of Puglia are no longer than 50KM per day, which means that you can work up an appetite to enjoy all the gastronomic delicacies that Italy is known for. Here are five of our favorites, guaranteed to please the palate of any cyclist.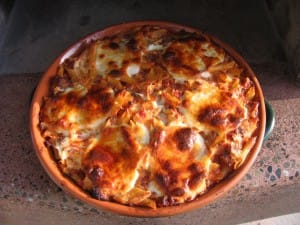 Maccheroni al forno
This pasta speciality consists of pasta mixed with meatballs, hard-boiled eggs and all manner of other ingredients then topped with a pie crust and baked in the oven. With sheep being the major livestock, chances are that the meatballs will be made with fresh, local mutton and the pasta is likely to be orecchiette, the tiny ear-shaped pasta that originated in Puglia. Rich and delicious is how this dish is described.
Olive Oil
With more than 50 million olive trees, olive oil production is one of Puglia's oldest industries and contributes to over 70% of Italy's total Olive Oil production and 15% of the worlds production.  Extra virgin oil from Puglia, depending on the orchard where it was produced displays different characteristics, from rich and fruity EVOO for grilling to light and golden for uncooked dishes. Did you know that it is the  percentage of free oleic acid which determines the degree of acidity of the oil? Based on the degree of acidity and taste the only names used are as follows: extra virgin olive oil, virgin olive oil, olive oil and olive pomace oil. An olive oil orchard tour and tasting can be adding to your self-guided tour.
Burrata di Andria
Burrata, ricotta, mozzarella – the cheeses of Puglia are known throughout the world, with most are made from the milk from local sheep. While mozzarella is certainly one of the regions must popular cheeses, it is the one-of-a-kind burrata di Andria that travellers must sample while they are vacationing in Puglia. First made in the early 1900's with fresh cow's milk, rennet and cream, what makes this cheese truly unique is that it must be eaten within 24 hours of being made, or else it is considered past its prime.
Purcedduzzi
With almonds being an important crop in Puglia, it is not unusual to have many desserts based on this mild nut and Purcedduzzi is a local favourite. Gnocchi, naturally made with durum wheat grown in Puglia, are fried and then topped with toasted almonds, honey and a fruity liqueur. Or if you choose to add an extra night to your self guided tour, you will cycle to Lecce, known as the Florence of the South. There you MUST try Pasticciotto Leccese, a pastry filled with yummy custard cream.
Wines
Puglia produces more wine than any region of Italy and competes with Sicily for the highest amount of grapes produced. According to WineCountry.It, Puglia counts 25 regionally certified wines, including the Primitivo di Manduria, a red named after the grape with the same DNA as the American Zinfandel!