If you're new to wine Tasting or need a refresher, click here to read our "Wine Tasting 101" post.
Winemaking is woven into the culture of many of the countries we visit with Pure Adventures. If you're a wine lover on a self-guided tour, you might drop in on favourite vineyard to see how the grapes are grown and the wine is made. Along the way you may discover a unique local producer you've never heard of, or take advantage of a tasting day to explore the nuances of the terroir. A little advance research can help you identify must-trys along your route, so we've compiled a list of regionally famous wine varietals to keep an eye out for next time you find yourself in wine country.
Germany – Riesling
Riesling is Germany's signature varietal — the first recorded reference to Riesling comes from the 15th century, when it became the drink of choice for German nobility. Today it accounts for nearly a quarter of the nation's total wine production. Rieslings are typically low in alcohol, high in acidity, and prized for their refreshing crispness. Somewhat unusually for a white wine, they can age well. Older Rieslings develop a signature petroleum smell, which might sound unappetizing but is natural and prized as part of the grape's unique profile. They range from sweet to bone-dry depending on the terroir. Because of the local climate, German Rieslings tend towards the dry side. They pair particularly well with spicy food because the acidity has a way of cleansing the palate. See this post by Wine Folly to learn more about Riesling varieties.
Austria – Grüner Veltliner
Austria's favorite grape is Grüner Veltliner, or Grüner for short. This wonderful white is often considered one the world's best "food wines." Again thanks to its high acidity it can hold its own even against red meat or a spicy plate of Vietnamese. The availability of plentiful, affordable Grüner is part of the charm, but the varietal has the sophistication to improve with age. "Reserve" Grüners exhibit a deeper hue and a peppery flavour.
The terraced vineyards along the Danube are fairytale-pretty and make the ideal backdrop for a tasting. While you're in Austria, consider trying the classic Grüner and weiner schnitzel combination. Vegetarians, on the other hand, will appreciate how well this one pairs with bitter veg like asparagus. 
Argentina – Malbec & Torrontés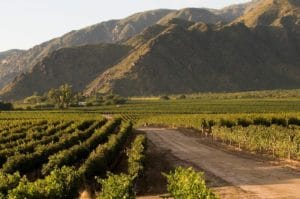 Malbec originated in France, but grew poorly in the French climate. The vine much preferred Argentina's hot climate and high elevation, and quickly grew in popularity once it was planted there. It is rich and full-bodied, with flavours of dark fruits like cherry and blackberry. Malbec is excellent served on its own, and pairs well with smoky or earthy flavours. Try it with lean red meat or with mushrooms, or a pungent blue cheese. At a local tasting, you'll notice the mountainous vistas of Salta are a good match with dramatic, bold flavours as well.
If you prefer white to red, Torrontés is among the famous wine varietals well worth trying. Of the three varieties — Torrontés Riojano, Sanjuanino, and Mendocino — Riojano is the popular favourite. Notable for its moderate acidity and light peach flavour, Torrontés also benefits from Argentina's warm, dry climate and high elevation. It is usually drunk young, and carries refreshing floral and herbal notes. Torrontés pairs well with spicy Indian food, but while you're in Salta try pairing it with empanada salteñas.
Portugal – Port & Vinho Verde
Port derives its name from the city of Porto, the second largest city in Portugal. The grapes are produced in nearby Duoro Valley, home to some unbelievably picturesque vineyards. Looking out across the Duoro River as it winds out to sea between sunny hillsides is guaranteed to enhance the tasting experience.
Port is a fortified wine, meaning the addition of brandy to wine stops fermentation before it is complete. This method preserves residual sugar for a sweeter flavour. Typically full-bodied and plummy, ports can serve as either aperitif or digestif. There are several varieties to try, including ruby and tawny port. The former is younger and retains more fruity characteristics, while the later is aged in small wooden barrels for a nuttier taste and a darker colour. Both are blended to maintain a balanced profile. More expensive vintage ports are blended, oaked, then bottle-aged for years to attain their peak complexity. Try serving a glass with blue cheese to round out a special meal.
If you're looking for something a bit fresher, consider a glass of vinho verde. Literally "green wine," the colour here refers to age, not grape variety. These wines are fresh and summery with a slight effervescence. Serve with seafood or other light, citrusy dishes. If you're enjoying a glass after the end of a long day biking, the low alcohol content won't send you off to bed too early.
Hungary – Tokaji Aszú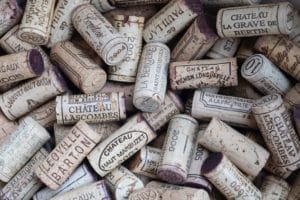 Hungary's Tokaji aszú is considered one of the great dessert wines of the world. Even if you typically avoid sweet wines, this one deserves to be on your list. Aszú has a long history of being celebrated in royal courts across Europe. The production of aszú relies on noble rot, a type of mold that develops in moist conditions. When affected grapes dry out they shrivel, concentrating their flavours and sugars. They are then added in careful proportion to a base must, giving the wine its unique qualities. The high sweetness means aszú ages very well indeed — bottles can last over a century. Even a glass of more recent vintage will show rich flavours of apricot, honey, cinnamon and ginger. Aszú is delightful on its own, perhaps as a holiday digestif, or as part of classic pairing with foie gras, chocolate, or cheese.
—
At eight famous wine varietals across five countries, we've barely scratched the surface. There's certainly enough here to kickstart a wonderful tasting adventure, but a list is no substitute for on-the-ground experience. Start planning your next custom trip and discover some new and vibrant flavours on your own.