April 21, 2020
Is it too soon?  Here, at my desk in my home office, I hear the landscapers at the neighboring homes running leaf blowers and chain saws, and I hear the construction of home improvements in the neighborhood. I see the delivery vans going by. In a way, it seems that some things haven't changed. But, here in the business of travel, much has changed, and we know that as of this writing we have a long way to go still.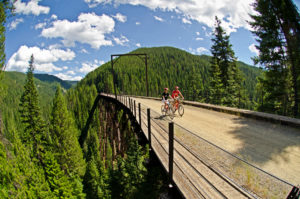 Here is what we are wondering:
Will the cruise industry and smaller versions of cruising come back?   
Will group travel be interesting or will the idea of being in close quarters with people you don't know be an undesirable experience?
How about airplanes and hotels, or any kind of small lodging experience?
We are thinking that everyone who is cooped up at home and without financial stress, will want to return to some form of travel experiences as soon as possible.  But, what we expect is that many travelers will take to short haul destinations and limit exposure in airplanes, boats, and many other group environments. International travel may take a little longer to come back. This is only a perception at this point, but it is based on customer comments and on travel industry commentary and surveys.  Frankly, the media will drive perception of risk in travel, and as tourism is so important to so many economies, we can be sure to see some propaganda.
Here is the result of a survey shared with us from the Adventure Travel Shows: "More than 60% of travelers said they haven't yet adjusted their summer vacation plans due to the COVID-19 outbreak. As for the milestone that would trigger them to travel again, nearly half stated a decline in COVID-19 cases or a lifting of shelter in place order. Only 9% would wait for a vaccine for COVID-19 to travel again."   This is fairly close to our observations as well.  So much can change however.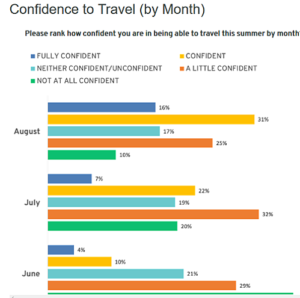 We have been in touch with our local partners in hard-hit destinations like Italy, and we are hearing about new procedures for hotel cleaning and the overall hotel experience.  Examples include having breakfast in your room (instead of a buffet style dining room), limited front desk access (1 customer at a time), and front desks with protective glass between the staff and customers.  If this is the way forward and the new hotel/lodging experience is going to be like this, I think the travel experience is going to change somewhat.
We at Pure Adventures have always been focused on Self Guided Adventures and Private Guided Adventures. As such, we think we are well positioned for the return to travel when it comes. We expect and are preparing for more private experiences. Anyone not interested in being in a group setting with strangers but eager to travel, should find comfort in our formula. Saying that, it is important to add that while not being with a group of strangers on a fixed agenda is great, it would be a shame not to mix and interact with locals wherever you go. Travel is for us, about experiencing the destination which includes the culture, traditions, and the people. Visiting sites is great, but meeting locals is wonderful, too.
Do you have thoughts about this, how will you go back to traveling?
Here are some articles that have been shared with us:
Forbes – Where do we go from here?
Going Places in Time of Pandemic…
April 23, 2020 – some new information shared with us today by the Travel & Adventure Show group
From a survey of 1700 people who have attended these shows and are identified as "Travel Enthusiasts"; Over Half will Still Travel in 2020
over 56% stated they would not make changes to their current travel plans for 2020 (24.7%) or are re-booking for later in 2020 (31.5%).
In reference to what types of travel options will they be looking for in the future, approximately 60% are planning on both self-managed international and domestic vacations.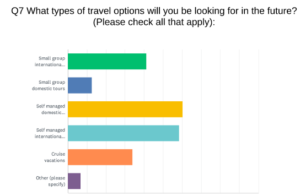 The hard to read text is:
Small Group International
Small Group Domestic
Self Managed domestic,
Self Managed International,
Cruise
and other