Catalonia's Hidden Jems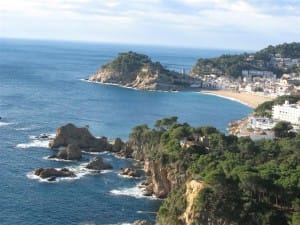 Located in the beautiful northeast section of Spain, with France, Andorra, Aragon, Valencia, and the breathtaking Mediterranean Sea as its borders, the towns of Catalonia are some of the world's most diverse and beautiful destinations to bike. Perhaps this is due to the area's rich history, culture, and friendly atmosphere. Or, perhaps it's something to do with the fact that Catalonia features 580 km of pristine coastline. Whatever the reason, people flock to this oasis to get away from it all, experience something new and enjoy the simpler side of life. Here are five such towns that embody the true nature of this Spanish region.
Llafranc
This incredible coastal town offers the perfect combination of warm summer climate and gorgeous beaches and is a favorite of locals and international visitors alike. In fact, Llafranc has become known as a luxury destination in northern Spain. It's an ideal place to cycle because it offers the best of everything, from sandy coastline perfect for an afternoon of sunbathing and watersports to ample shops and stylish boutiques to a variety of restaurants that provide a true taste of the area. Enjoy the breathtaking scenery of the surrounding wooded hills on a leisurely bike ride through town or stop and spend the day. You certainly won't be bored!
L'Escala
The lovely little town of L'Escala has somehow managed to perfectly merge the area's ancient past with a bustling modern presence. Surrounded by pristine beaches, it offers a refreshingly quiet atmosphere that's perfect for those who want to get away from it all. L'Escala is known worldwide for its exquisite anchovies and the fascinating ruins of Empuries found there, but aside from this there are still plenty of other things to see and experience. From outdoor activities like golf and water sports to browsing local shops to dining at one of the many friendly little restaurants, there's something for everyone in this one tiny place. Once you reach this sleepy little town, you'll want to park your bike and stay a while.
Calella de Palafrugell
Calella de Palafrugell is the quintessential holiday resort and fishing village, with its postcard-perfect landscapes and warm, welcoming locals. It has become known for the brilliant architecture of its traditional archways (known as Voltes) and the friendly little sea shanties where unique entertaining sing-alongs are held, accompanied by coffee and rum – a tradition to which a festival is dedicated every year in July. Calella de Palafrugell is the ideal place for those with a taste for ancient architecture because it features a surprising number of old buildings and structures for its relatively small size. It's a great place to stop, mingle with the locals and learn about the area's rich history and culture.
Figueres
Ideally situated between the mighty Pyrenees Mountains and beautiful Costa Brava, Figueres is a town bustling with life. The town's historic center features the intriguing remains of its old, medieval walls which still stand today and the incredible Sant Ferran Castle sits high on a hill overlooking the village below. A cycle through Figueres reveals evidence of a variety of architectural styles that were popular through the 17th, 18th, 19th and 20th centuries, including fascinating examples of the Modernist and Neoclassical styles. Figueres is also known for its delectable cuisine, which features a variety of fresh, local ingredients including fish from the nearby coastal waters and vegetables, fruit and wild mushrooms harvested from the surrounding mountain region. The result is mouthwatering and unique dishes fit for a king, so be sure to leave yourself enough time to digest before riding again!
Sant Feliu de Guixols
Located along the Costa Brava, Sant Feliu de Guixols has a unique atmosphere which features a mixture of both tourists and locals, two equally important components of the town's livelihood. It has its fair share of beaches which provide ample opportunity to sunbathe and enjoy the water, but it's also known for the many ports that have helped to put the area on the map. The scenery here is picturesque, with small mountains and lush forests meeting the long stretches of pristine coastline. Sant Feliu is also home to Catalonia's oldest music festival, "Porta Ferrada", which you can experience if you visit during July or August. And when it comes to cycling, it doesn't get any better than the scenic coastal road south of Sant Feliu to Tossa de Mar, which offers some of the most dramatic and breathtaking views in all of Spain. It's simply unforgettable.
---
When it comes to atmosphere, culture and natural beauty, the Catalonia region of Spain is among the top destinations in the world. From seemingly endless stretches of sandy coastline to ancient architectural feats to unique culture and delectable cuisine, it's a virtual treasure trove of adventure and discovery as far as the eye can see. If a visit to Catalonia is in your future, be sure to add these five fantastic towns to your biking itinerary.