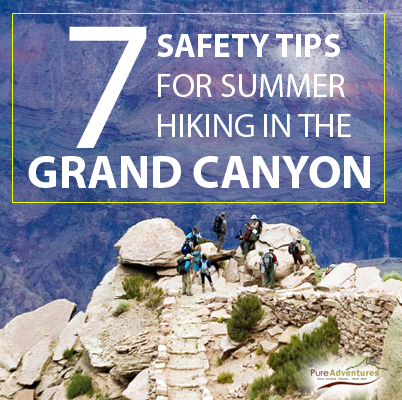 The Grand Canyon is like no other place on earth. Absolutely epic in every way, from the number of visitors (nearly 5 million a year) to it's ancient geological history (2 billion years worth)  Arizona's Grand Canyon is a dream hiking destination.
"It's easy to think of the canyon as a hole in the ground, but when you're there it's so much more. Be ready to be blown away," enthuses hiker John Soltys. "It's hard to put into words. The scale is unlike anything I'd seen before."
Hiking the Grand Canyon is an adventure that shouldn't be taken lightly. At nearly a mile deep, the hiking down into – and then out of – the canyon challenges even the fittest hikers. The dramatic changes in elevation (South Rim is approximately 7000 ft in elevation and north Rim is 8000 ft in elevation), combined with soaring summer temperature are factors that play heavily into a hiker's ability to complete a hiking trip of the Grand Canyon safely and happily. "Everyone who hikes in the canyon for the first time reports that it was more difficult than they expected," reports the National Parks Service.
These tips from experienced Grand Canyon hikers and the National Parks Service will help prepare you for a safe summer hiking experience.
Stayed Well Hydrated
"Water, water and then more water!" advises Soltys, who recently visited the Grand Canyon with his young children. The National Parks Service suggests packing at least 2 liters of water in your day pack and know ahead of time where water bottle filling stations are located. Remember that the Park's ban on the sale of single use water bottles means that picking up extra bottled water isn't possible and pack accordingly. Alternate drinking water with drinking fluids with electrolytes (commercially-prepared or home-made) to maintain the salt levels in your body. Hyponatremia is just as dangerous as dehydration.
Add These Essentials to Your Day Pack
A flashlight, waterproof poncho, whistle or mirror, sunscreen, spray bottle and a detailed map are all must-haves in your day pack.
Match the Trail With Your Physical Ability
For Soltys, an easy Ranger-led hike was best for his family. Fit hikers seeking a challenge may want to try sections of either the Bright Angel Trail or the South Kaibab Trail, both offering distances ranging from 3 to 6 miles. If you prefer to stay above the rim, the trail along the South Rim offers amazing views along its paved 13 mile route.
Leave The Diet At Home
A hiking trip in the Grand Canyon is not the time to count calories. Salty, high calorie snacks such as trail mix and homemade or commercially prepared energy bars are popular choices. Balance out your food intake with water intake to avoid cramping and other stomach issues. While the descent into the Canyon may feel deceptively easy to some hikers, it's important to remember that it take a lot of energy to climb back up.
Pick the Right Time To Hike…
With temperatures of the inner canyon peaking at a daytime high of 106F during the summer months, it's important to hit the trail before sunrise – or shortly thereafter.  Heatstroke and heat exhaustion are serious health threats and can affect even the best prepared hikers. "Experienced desert hikers know that the timing of their hike is the most important factor in avoiding hazards," writes the National Park Service on their Summer Hiking page. The National Park Service advises visitors to the Grand Canyon to avoid hiking between 10:00am and 4:00pm, when temperatures in the inner canyon are the highest. Stick to the shade during these times and remember to keep drinking water, even if you're not on the move.
…And Then Take Your Time On The Trails
A general rule is to allow 1/3 of your time to hike into the Grand Canyon and 2/3 to hike out. If you're finding the pace with your hiking group to be too fast, ask them to slow down. Follow the talk test – if you can't keep a conversation going because you are winded, it's time to slow down. Don't be afraid to take frequent breaks – in the end you won't lose anytime by slowing down and stopping.
Go On A Guided Trip
If proper planning and packing is done, a day trip in the Grand Canyon along the Bright Angel and South Kaibab trails is achievable for many physically fit hikers. The next step in a Grand Canyon adventure would be a Rim to Rim hiking tour or Phantom Ranch tour with loop hikes, the logistics of which can be challenging if you're not familiar with the Canyon's trails. A guided trip takes away many of the worries of planning, which means you can enjoy the trip of a lifetime. Pure Adventures offers several guided trips of the Grand Canyon, each led by experienced guides with wilderness first aid training. Contact Pure Adventures to begin planning your summer vacation in the Grand Canyon.