Puglia, also known as Apulia, forms the heel of Italy's famous boot shape. That gives the region some distinct advantages — the longest coastline of any part of Italy's mainland, for instance, and a Mediterranean climate especially conducive to growing olives. With around million 60 olive trees, Puglia produces 40% of Italy's olive oil. On our Puglia cycling tour, guests stop at Hotel Masseria Salamina Agriturismo, where they can taste organic olive oil made from ancient trees that grow on the grounds. The beauty of the Adriatic cliffs and the quintessentially Italian groves and vineyards of the countryside make this a fantastic cycling destination all on their own, but the castles, churches, and rich historical attractions of Puglia put it in another class altogether.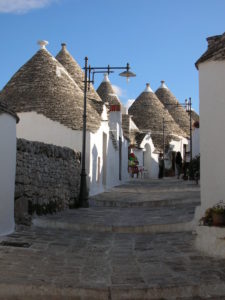 Italy holds the record for most UNESCO World Heritage Sites, and Puglia is home to several. Perhaps the most distinctive are the trulli of Alberobello. Trulli (singular trullo) are stone huts with conical roofs, typically made with local limestone. The dry-stacked construction style means they are built without the use of mortar. Evocative symbols are sometimes painted on the roofs, with brilliant white caps on the peak as the finishing touch. Clustered together on a hillside, they look like they might've been lifted from a storybook.
Alberobello is home to approximately 1500 trulli, many of them still in use as homes, shops, and cottages. Despite their ubiquity, the history of these unique structures is still in doubt. While it is know that the oldest trulli standing today date to the 14th century, archeological evidence suggests their design goes further back. One popular theory argues their dry-stone construction allowed them to be pulled down in a hurry, which was convenient when a medieval housing inspector came by to charge levies on permanent structures. If it's true, trulli may be the world's most attractive tax dodge.
Whatever their origins, the trulli make perfectly charming accommodations during a stay in Alberobello. Our Puglia tour spends two days lingering in the area, with overnights in Trulli e Puglia. After a day exploring the winding alleyways of the town and the surrounding landscape of the Itria Valley, this is a nice chance to relax and bask in the cozy interior atmosphere of a trullo. Beyond just unique architecture, however, Alberobello offers a range of gastronomic delights. The classic Italian staples of cheeses, cured meats, and pastas are present and accounted for, but leave some room for taralli, a regional favourite snack food similar to a pretzel made with local olive oil. Rosolio is another southern Italian specialty well worth a try. Made from rose petals, this liqueur is often flavoured with herbs, spices, or fruits. Consider it a compliment if your host pours you a glass – rosolio is a traditional offering of good luck.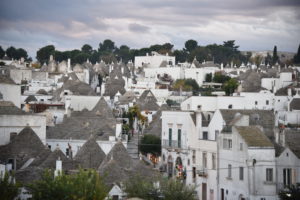 There's plenty more to see in Puglia once you've had your fill of trulli, of course. Two millennia of change and conflict have left their stamp on the region. Before the turn of the common era, Illyrian and Italic tribes settled the area. The Greeks arrived in 8th century BCE, before being supplanted by the Romans who used the fertile land to grow crops to feed their expansion. After the fall of the Western Roman empire in the 5th century CE, a rotating cast of players vied for control over the next several centuries, including the Byzantine Empire, the Normans, the Turks, Austria, and Spain. In 1861, Puglia joined a united Italy. What this means for the contemporary visitor is wealth of historical sites to ponder and explore.
Otranto, for instance, is a seaside town of pristine beaches and narrow Old World streets. Students of history, however, may be drawn to Otranto Cathedral. The cathedral was built in the 11th century and combines Byzantine and Roman influences. An Ottoman siege in the 15th century caused hundreds of deaths and extensive damage, but when the cathedral was retaken a year later the ordeal was commemorated with a macabre tribute – the skulls and bones of 800 Christian "Martyrs of Otranto" can be seen today in an arrangement behind the altar. With evocative history like that, it's no wonder English author Horace Walpole basically kickstarted the Gothic fiction genre in 1764 with his novel The Castle of  Otranto.
Whether it's the sunsoaked landscapes or rich historical backdrop that initially attracts a visitor, it's hard to leave without an appreciation of both. Alberobello and Otranto provide marquee destinations that stand among Europe's most best, but rambles through Puglia's tiny towns, through bright piazzas and past orchards of cherry trees, make an indelible impression as well. Check out our Puglia tour page or drop us a line at 1-800-960-2221 to start planning a trip.