If you think of a truly memorable trip, chances are the destination isn't the only thing you remember. What makes a vacation stand out is just as often about the companions you bring with you, and the energy and enthusiasm you generate together. Striking a harmonious balance gets trickier when you have different interests, ages, and fitness levels to factor in. Enter the e-bike to help close the gap: pedal-assist e-bikes help cyclists of all abilities stay on their bikes longer, go farther, and see more.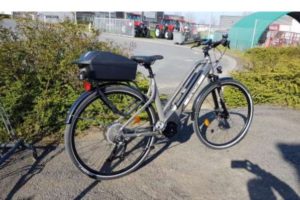 Old-school cycling purists might have started out skeptical, but the perception is rapidly changing. E-bike sales have experienced exponential growth over the last decade, and in bike-loving Holland 30% of new bike sales are e-bikes. It's important to realize that pedal-assist e-bikes offer a helpful boost with acceleration and hills, but otherwise look and feel very much like regular bikes. Also called "pedelecs," most e-bike motors cap out at 20 mph so you can't fly down the road too fast. Some have toggles to adjust how much assist you get, meaning you can calibrate your ride to make sure you're getting exercise without it feeling too strenuous. Most riders simply describe the sensation as "fun."
We're excited about the potential for e-bikes to open up tours through hilly or mountainous landscapes. They're perfect, for example, on the Italy – Piedmont Wine Country E-Bike Tour, where you can appreciate a ride through the hills and vineyards and still save some energy for wine, chocolate, and truffle tastings. The Croatia – Cycling Tour of Coast & Islands is also an excellent candidate for an e-bike rental, as the assist will take some stress off your joints while you take in the rugged Dalmatian coastline.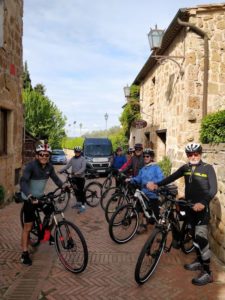 If you're familiar with electric vehicles you may wonder whether e-bikes introduce any logistic hurdles, like finding charging stations. The good news is most e-bike batteries can cover an average of 50 miles of relaxed pedalling on a single charge. When it's time to recharge a simple wall socket will do, just like charging a phone or a laptop. Expect a full charge to take around five hours, so it's easiest just to plug in at the hotel once the day's cycling is done.
In terms of riding, inexperienced cyclists especially find e-bikes easier to handle than their all-manual equivalents. The only factor to be aware of is the added weight of the motor, battery,  and reinforced frame, which means you'll want to allow a little extra lead time for braking. No need to worry about braking harder, though, because experientially braking feels identical to any road bike. Thanks to the motorized assistance, you won't otherwise notice the extra weight when you're tooling around.
It may come as a surprise to hear that inventors have been tinkering with e-bike designs since the late 19th century. In the 21st, the design has been more or less perfected for an ergonomic and enjoyable experience. Ecologically speaking, e-bikes promise fewer combustion engines on the road and more people out getting exercise. If it's been awhile since you rode, you're wondering about keeping pace with other cyclists in your group, or you simply want to extend the distance and comfort of your ride, e-bikes are a fantastic option. The only thing you stand to lose is the fear of missing out the next time someone suggests a bike trip through a beautiful rolling landscape.