Tasting Menu in Spain Gastronomic Bike Tour
Our most popular cycling tour for 10 years has been our "Spain Gastronomic Bike Tour" and the abbreviated four night version of that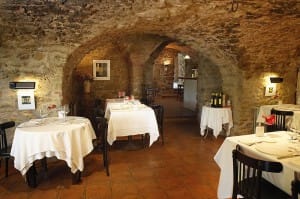 trip.   As with most tours, we leave dinners out so people can explore a local restaurant or food offering on their own.  However, on this "Gastronomic" bike tour, where food is even part of the title and the theme of the trip, we do include 3 out of 6 dinners (or 2 out of 4) so you will for sure experience local Catalan cuisine!
One of our most favorite places in the Costa Brava is the Hotel-Restaurant La Placa in Madremanya!  For 12 years, we have been getting rave reviews from our bicycle tour customers as we often finish our trips here.  Local food, onsite vegetable garden and herb garden, and amazing dishes!  The tasting menu changes in function of season, and availability of ingredients.
We encourage our guests to splurge just a little as well and upgrade to the Tasting Menus available at each of the establishments we book.  What can you expect?
Here are some samples:
Hotel & Restaurant Sa Punta in Pals
House Appetizers
……………
Eggplant caviar with quail and prawms
Courgette zuchinni flower filled mushrooms and sea fruits
HAke supreme with cava and mushrooms from the season
Veal medaillons with salt Maldon
……………
Pomegranate with sweet wine from Ampurdán
Curd cheese "mató" with honey ice-cream and rice crunchy
………………………………………..
Recommended cellar by the sommelier:
Viña Noble Chardonay 19 €
Vionta Albariño  22 €
Viña Noble Tinto Varietal 19 €
Conde de San Cristobal Tinto Ribera 24 €
Celler Trobat Cava Brut Nature  22 €
Mumm Cordon Rouge  37 €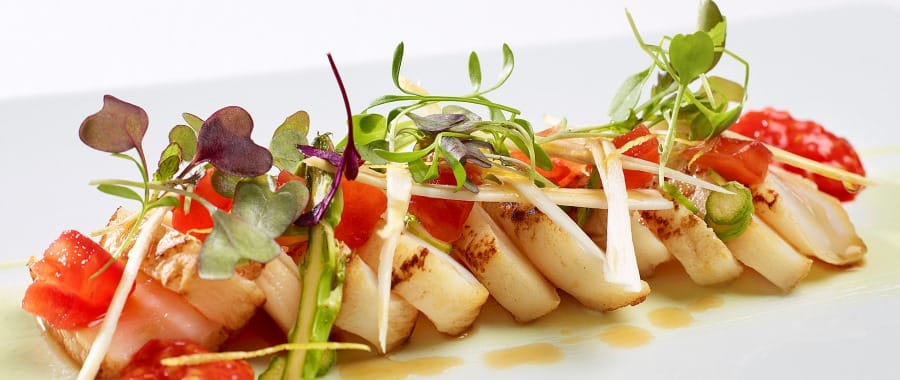 Dinner doesn't always have to be "Tasting Menu" either, and so we offer an excellent 'prix fixe' menu but with just 1 or 2 fewer courses.  At the Hostal Empuries, you are dining on local food, locally grown and produced in this Gold Leed Certified Hotel-Restaurant.  Click here to see their Autumn Menu from 2015
The 'Tasting Menu' may not be for you if you are vegetarian, need gluten free, or have any other kind of special need.  Tasting menus are set, unchanging, and inflexible.  They are AMAZING if your taste in food allows for the diversity of food dishes.   If you do have any of the diet restrictions, we suggest to stay with the gastronomic fixed price menus or even order 'a la carte' on your own.