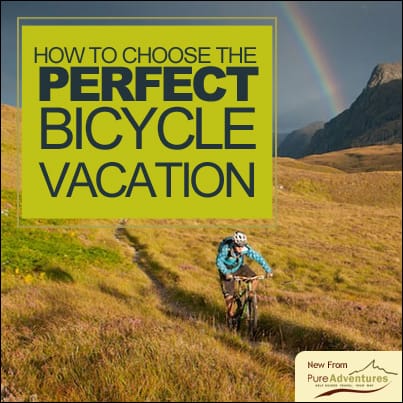 Cycling tours make up a significant volume of adventure travel holidays. For years, the only known option for most people was a guided trip. The description is obvious, but to summarize, this historic trip was a package a traveler booked with a tour operator offering a bicycle vacation with a specific departure date and a minimum number of participants. However guided trips have evolved in recent years, with more companies offering custom guided trips and pricing their tours to operate with fewer participants. On the other end of the bike travel spectrum are self contained tours, where you do everything on your own, from bike rentals, accommodation bookings and designed the route maps. In the middle are self-guided tours, offering travelers travelers what Pure Adventures' believe is the best of both worlds (being self-guided travel pioneers, we're a bit biased!).

With such a wide variety of bicycle tour options, how do you pick the option that best fits your travel personality? Here is a round up of the different types of cycling vacations in the marketplace and suggestions on which one might be the best one for you.
Supported self-directed bicycle tours
Supported Self Directed is a term created by Pure Adventures with our partners at AOA to stand apart from both self guided and guided trips; it says something different. SSD, as we say internally, is about keeping the important aspects of a self guided trip such as independent cycling and schedule, the quality rides, route notes and navigation materials, while now bringing in some elements of traditional guided trips such as a tour leader, SAG stops about every 25-30 miles on a ride; arrival/departure transfer, and by virtue of having someone supporting the independent riders, we can ensure assistance with mechanical matters, fatigue, and weather more quickly.  Our Death Valley Discovery Road Cycling and Bryce Canyon Hiking and Cycling Tour are examples of our SSD format vacations.
We include:
hotels
your ride leader (note that this isn't a guide and you ride independently)
support vehicle and and transport costs
SAG support (stations set up every 20-25 miles and stocked with healthy snacks and drinks)
expertly created routes with road books, route notes and maps featuring turn by turn instructions
suggestions for dining, visiting
some extras such as a vehicle lift to nearby restaurants when lodging is outside of walking distance
a shopping trip will be offered for you to supply yourself at the outset and a cooler for your stuff alone to keep it fresh.
Choose a supported self directed bicycle vacation if you:
have a good level of fitness but like the idea of SAG support
have "graduated" from guided tours and want more flexibility during your vacations
want to ride at an epic destination, but the logistics of accessing the destination on your own are challenging
have a companion who wants to travel with you, but not ride
prefer the certainty of set departure dates
want a less expensive vacation option (when compared to fully-guided bicycle trips)
Self Guided Bicycle Vacations
We are proud to be pioneers in the self guided travel Pure Adventures pioneered and perfected the art of self-guided travel. Every one of our self-guided cycling and multisport tours is a complete and very affordable vacation, tailored specifically for active, independent and curious travelers who demand exceptional value and flexibility. The majority of Pure Adventures' travel cycling and hiking itineraries are self guided.
We include:
accommodations
most meals
bike rentals
detailed route maps with turn by turn instructions
local expertise and some support (in case of weather changes, for example)
luggage transfers
professional travel services to help customize your trip
Choose a self-guided bicycle vacation if you:
have "graduated" from guided tours and want more flexibility during your vacations
can confidently read maps and road signs
prefer to explore your destination at your own speed
feel comfortable traveling in a country where the primary language is not your own
have a good level of fitness and can comfortably cycle the distances outlined in the itinerary
want to choose your own departure date
want to travel with your cycling club and reap the benefits of group travel (like reduced costs)
Fully Guided Bicycle Tours
Fully guided cycling vacations are the ultimate in luxury travel. Not only do you get to explore some of the worlds most fascinating destinations, but you benefit from the extra support and meals not included in self guided or self direction vacations. Sometimes the logistics or safety concerns of traveling in a destination make a fully guided bike tour the best option. For example, our Havasupai Grand Canyon Trekking tour is fully guided, making camping at the bottom of the Grand Canyon possible. With a fully guided tour, nearly everything is included (gratuities and alcohol being the few exceptions).
Choose a fully guided tour if you:
have never been to this particular destination before and want expert guidance
want a more upscale travel experience
prefer the certainty of set departure dates
have a good level of fitness but like the idea that there is support in case you can't finish the route on a particular day